DJ White Owl - Not Your Average DJ Pt. 10: The Final Chapter
Submitted by romeo on Tue, 06/12/2007 - 10:33am.
General | DJ White Owl | Mixtape Torrents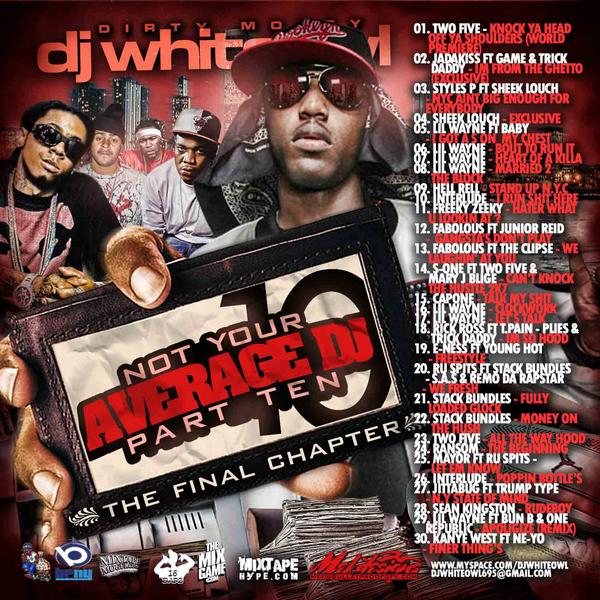 New CRACK from ya favorite DJ!!
Its the Final Chapter of the Not Your Average DJ series from DJ White Owl
Featuring a gang of your favorite artists. This the one u been waiting for.
R.I.P. Stack Bundles - Kid was gonna be a legend. - gone but not forgotten.
The game will never be the same without you. Yall bump this this loud !!!
1. Knock Ya Head Off Ya Shoulders (World Premiere) - Two Five [2:28]
2. Im From The Ghetto (Exclusive) - Jadakiss Ft Game & Trick Daddy [4:01]
3. Nyc Aint Big Enough For Everybody - Styles P Ft Sheek Louch [1:55]
4. Exclusive - Sheek Louch [3:10]
5. I Got A S On My Chest - Lil Wayne Ft Baby [4:04]
6. Bout To Run It - Lil Wayne [0:48]
7. Heart Of A Killa - Lil Wayne [1:36]
8. Married 2 The Block - Lil Wayne [1:49]
9. Stand Up N.Y.C - Hell Rell [1:01]
10. I Run Shit Here - Training Day Interlude [0:27]
11. Hater What U Lookin At - Freeky Zeeky [3:34]
12. Gangstas Dont Play - Fabolous Ft Junior Reid [4:19]
13. We Laughin At You - Fabolous Ft The Clipse [4:08]
14. Cant Knock The Hustle 2K7 - S-One Ft Two Five & Mary J Blige [4:32]
15. Talk My Shit - Capone [4:32]
16. Clockwork - Lil Wayne [0:51]
17. Lets Talk - Lil Wayne [3:06]
18. Im So Hood - Rick Ross Ft T.Pain, Plies & Trick Daddy [4:11]
19. Freestyle - E-Ness Ft Young Hot [1:28]
20. We Fresh - Ru Spits Ft Stack Bundles, S.A.S & Remo Da Rapstar [3:42]
21. Fully Loaded Glock - Stack Bundles [2:44]
22. Money On The Hush - Stack Bundles [1:23]
23. All The Way Hood - Two Five [3:25]
24. The Beginning - Ransom [2:25]
25. Let Em Know - Mayor Ft Ru Spits [4:09]
26. Poppin Bottles - Jittabug Interlude [0:21]
27. N.Y. State Of Mind - Jittabug Ft Trump Type [2:37]
28. Rudeboy - Sean Kingston [2:26]
29. Apoligize (Remix) - Lil Wayne Ft Bun B & One Republic [2:28]
30. Finer Things - Kanye West Ft Ne-Yo [1:33]
Total Time : 79:29 [min:sec]
Total Size : 185.1 MB [194,134,303 bytes]
How To DOWNLOAD