Pharrell Says Delayed Solo Debut Is 'Finally Done' — LP Due This Spring
Submitted by mfizzel on Sun, 02/19/2006 - 8:43pm.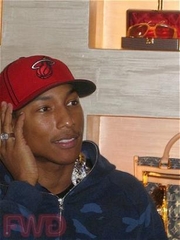 When Pharrell Williams had his fans asking "Can I Have It Like That" last fall, they never thought the answer would be "no."
The Neptunes producer and singer delayed the release of his debut solo album at the 11th hour in December because he felt additional work was needed.
"I put one [single] out and I'm like, 'OK,' " he said at Clive Davis' annual pre-Grammy party last week. "When I was getting ready to come up with my second one, I was like, 'Yeah, but ...' " Pharrell never finished the thought, but the look on his face suggested he wanted a bigger hit than "Can I Have It Like That".
"I'm done now, I'm finally done," he continued. "Just wait till you hear it. Forget about it."
Pharrell declined to elaborate further on the album, but an Interscope Records spokesperson said that it's scheduled for a spring release. Presumably still titled In My Mind, the collection will feature appearances from Jay-Z, Slim Thug, Daddy Yankee and Pusha T of the Clipse.
Along with finishing his solo record, Pharrell has been working with fellow Neptune Chad Hugo on what Hugo called "top-secret stuff." Pharrell may have given it away, however, when he declared, "Watch out for Brandy."
The duo are also continuing to develop their Star Trak label.
"We got the Clipse coming out, we got a new girl group — it's R&B, we don't have a name for the group yet — and we got something special," Hugo said, again being discreet.
Hugo has also been producing the second album for his high school friend Kenna.
"He's pretty much finished, but we're gonna tweak it up a little bit," Hugo said. "He's going through some [label] things, and he's got to get his masters back."
Pharrell and Hugo's other musical endeavor, N.E.R.D., will also be resurfacing at some point in 2006.
"That's to be announced," Hugo said. "We got it in the plans coming up, but we gotta concentrate on the Neptunes."
Source: www.MTV.com
How To DOWNLOAD