Rapid Ric - Whut It Dew 3
Submitted by mfizzel on Mon, 01/16/2006 - 2:12pm.
Mixtape Directory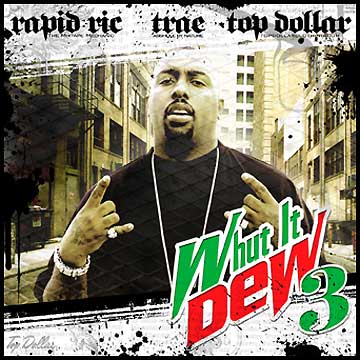 DJ Rapid Ric aka. The Mixtape Mechanic starts of 2006 with the 3rd
edition of one of the hottest South mixtapes, the Whut It Dew edition.
Holdin' it down with the Asshole Trae, this special Texas-style mix has
40 new tracks from DSR, Slim Thug, Paul Wall, Webbie,Chamillionaire,
Magno, SLAB, Wreckin' Yard, Chalie Boy, B.G. & KLC and Master P.

1 - World Famous Whut It Dew 3 Intro - Rapid Ric
2 - Introduction - Trae
3 - Death Around The Corner - Trae, Tupac
4 - Shut It Down - Master P, Slim Thug
5 - So Hood - A3
6 - Breakin Em Off Proper Flow - Chalie Boy
7 - Trae Inerlude
8 - Holla At Me - KLC, Mystikal, B.G.
9 - Ain't Hard To Find Flow - Cory Mo, Trae
10 - U Don't Wanna - G.T., Paul Wall, MC Qua
11 - DJ Paul of Three-6-Mafia Break
12 - Yey - Grady Babyz
13 - Young Jeezy Break
14 - Southside Still Holdin Flow - HAWK, Scooby, Yung Redd, Unique
15 - Swang 1.5 - Trae
16 - Trae Break
17 - Ride With Me - T.I.
18 - Welcome to the South - Yung Redd, Paul Wall, Trae
19 - Boy in Blue Flow - Killa Kyleon
20 - Ratchet - Lil' Boosie, Webbie
21 - Tussle 2006 - Big Tuck & Tum Tum of DSR, Slim Thug, Trae
22 - Houston Got A Problem - Rob G
23 - Weight of the World - Garcia, Bun B
24 - Weight of Texas Flow - Scooby, Poppi of the Gritboys
25 - I'm Gon Stay A Guerilla Flow - Trae
26 - Biggest Diamonds - Mabooda, Trill Gates
27 - Universal Spitters Flow - Chamillionaire, Ace Deuce of DSR
28 - Bun B Break
29 - Throwed - Bun B, Trae
30 - Reclining - Nac, Swift, Latasha, Carnival Beats
31 - Drank Break - Trae
32 - Still They Couldn't Stop Us Flow - Da Ryno, Mr. Blakes, Magno (WID Family)
33 - Trae Interlude
34 - Drive Slow in the Hood Flow - Trae, Lil' Boss of SLAB, Slim Thug
35 - Not Gunna - The Game, Trae, Paul Wall
36 - Get Ya Mind Right - SLAB
37 - Outro
BONUS TRACKS
38 - Pullin Up - Whut It Dew Family [1st single]
39 - Casino - Gametime
40 - Wood Grain Grippin' - OG Ron C's Wreckin Yard
41 - Stutter - Jay Capone
How To DOWNLOAD