Selector Rondon - Rewind And Pull Up Vol. 4
Submitted by mfizzel on Thu, 07/27/2006 - 10:16am.
Reggae | Selector Rondon | Mixtape Torrents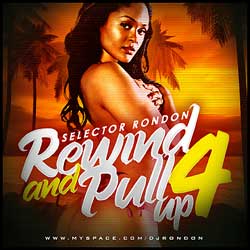 Selector Rondon spins back some of the classic reggae joints from past
memory on this new edition of his classic/oldies reggae series Rewind.
Back with the first mixtape in this series of his ina short while, reggae
mixtapes' most consitent selector brings you another 50+ tunes fromreggae's
yesteryears.
Featuring selections from Garnett Silk, Luciano, Shabba Ranks, Beres
Hammond, Sizzla, Cutty Ranks, Pinchers, Beenie Man, Capleton and others.

1 - Intro Pebbles & Beenie Man
2 - Splashing Dashing - Garnet Silk
3 - Yu Di Money Spen Pan - Terror Fabulous
4 - No Fun Thing - Spragga Benz
5 - Long Or Tall - Bounty Killer
6 - Murder People - Shabba Rank
7 - Baby Face - Nadine Sutherland
8 - Show It Off - Beres Hammond
9 - Kiss Me Honey - Sanchez
10 - Center Of Attraction - Lukie D
11 - Knocking Da Boots - Sining Melody
12 - Mek It Tan So Den - Beenie Man
13 - Forever - Sanchez
14 - Good Life - Cocoa Tea
15 - Sailing - Tony Curtis
16 - Nuh Kin Teeth - Ninja Ford
17 - She Loves Me Now - Cocoa Tea
18 - I Could Be Myself - Beres Hammond
19 - Can't Stop A Man - Beres Hammond
20 - Kingly Character - Garnet Silk
21 - Punch Line - Luciano
22 - Who I Am - Capleton
23 - Peace My Brethren - Luciano
24 - Ulterior Motive - Luciano
25 - Dem A Try A Ting - Sizzla
26 - Jah Caught Them - Capleton
27 - It's Me Again Jah - Luciano
28 - Sweep Over My Soul - Luciano
29 - Babylon A Listen - Sizzla
30 - Stand Tall - Capleton
31 - Jah Blessing - Luciano & Sizzla
32 - Guide Over Us - Sizzla
33 - Honey Wine - Beres Hammond
34 - Loneliness - Sanchez
35 - Temped To Touch - Bere Hammond
36 - Haffi Get Her - Cutty Ranks & Beres Hammond
37 - Nana's Medley - Nancy Mclean
38 - Stand By Me Pt. 2 - Pinchers
39 - Won't Last A Day - Sanchez & Wayne Wonder
40 - I've Got Get You - Tony Tuff
41 - Try To Get To You - Richie Stephens
42 - Fresh Vegetable - Tony Rebel
43 - Close To You - Marcia Griffiths
44 - Chatty Chatty - Tony Rebel
45 - Brinks - Degree
46 - Love Black Woman - Buju Banton
47 - Browning - Buju Banton
48 - Cry Fool - Tiger
49 - Feeling Lonely - Cobra - Beres Hammond
50 - Half Idiot - Marcia Griffiths & Cutty Ranks
51 - This Time I'll Be Sweeter - Jack Radics
52 - When Will I See You Again - Pinchers
53 - I Can't Wait - Sanchez
54 - Sweat (La La La Long) - Inner Circle
How To DOWNLOAD