Statik Selektah - Soundtrack To The Summer 2006
Submitted by mfizzel on Sun, 05/28/2006 - 12:47pm.
General | Statik Selektah | Mixtape Torrents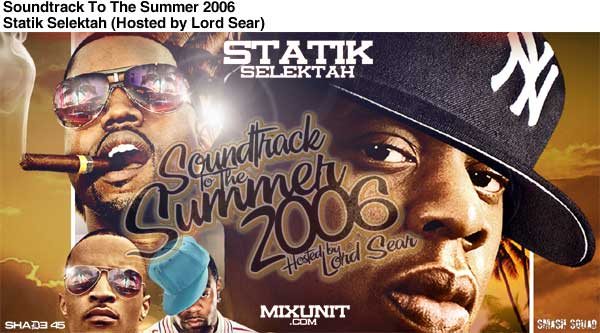 Boston's mixtape showoff Statik Selektah is taking his act down to the festivities of Memorial Day Weekend with special host and legendary radio personality Lord Sear (of The All Out Show w/ Rude Jude). Together, these two SHADE 45 satellite radio personalities launched their official Soundtrack To The Summer mixtape and Statik will be migrating South for the holiday to give away as many copies as he can bring with him. The mixtape veteran and accomplished producer/DJ (he's done production or cuts for tracks with AZ, KRS-One, Nas, Royce Da 5'9" and Method Man) is headed to South Beach, Miami to dole out mixtapes.
Featuring a gang of exclusive cuts, original remixes, new blends and tracks produced by Statik solely for this mixtape, Soundtrack To The Summer 2006 has a little something for everybody. To suit the needs of Miami's diverse party crowd, Statik brings you joints from the North, South, East and West. Paying his respects to the 305, Statik starts with the "Hustlin' (remix)" featuring Jeezy & Jay-Z, and the rest of the tape is pure drama. Including remixes like "Crazy" w/ Gnarls Barkley & Kardinal Offishall; "Wanna Love You" w/ Robin Thicke, Michael Jackson, Busta Rhymes & Pharrell; and "It's Goin' Down" w/ Yung Joc, Paul Wall and Lil' Wayne.
This mixtape also features tracks from Kanye West, Nas, T.I., Lloyd Banks & Run DMC, Papoose, Rick Ross, Consequence, Big Boi & Sleepy Brown, Ghostface Killah, Mary J. Blige, Timbaland & Nelly Furtado w/ Biggie, Mobb Deep & Ray Cash.
1 - Statik Selektah - Summer Time 2006 Intro
2 - Rick Ross feat. Jay-Z & Young Jeezy - Hustlin (remix)
3 - Termanology - Watch How It Go Down [produced by DJ Premier]
4 - Lord Sear - Shade 45 Interlude
5 - Kanye West feat. Consequence - Grammy Family [DJ Khaled album]
6 - T.I. - Drive Slow Freestyle
7 - Ray Cash feat. T.I. & Scarface - Bumpin My Music (remix)
8 - Clipse feat. Pharrell - Mr Me Too (Original + Statik remix)
9 - Papoose feat. Busta - Get Right (Statik blend)
10 - Lloyd Banks & Run DMC - My House (Showoff remix)
11 - Mobb Deep feat. Young Buck - Give To Me (Showoff remix)
12 - Gnarles Barkley feat. Kardinal Offishal - Crazy (Showoff remix)
13 - Nelly Furtado feat. Timbaland & Biggie Smalls - Premiscuous (Statik remix)
14 - Sleepy Brown feat. Big Boi & Pharrell - Margharita
15 - Robin Thicke feat. Michael Jackson, Busta & Pharrell - Wanna Love You (Statik remix)
16 - Pharrell feat. Kanye West - Number One
17 - Mary J Blige - Enough Cryin (Statik blend)
18 - Ghostface feat. Kanye West & Neyo - Back Like That (remix)
19 - Lord Sear - Shade 45 Interlude
20 - Yung Joc feat. Lil' Wayne & Paul Wall - It's Goin Down (Statik remix)
21 - Dre feat. Rick Ross - Chevy Ridin High (Statik dubplate remix)
22 - Red Cafe - Fuck Em Freestyle
23 - The Roots - Don't Feel Right
24 - Granite State - Gone With The Wind
25 - Busta Rhymes - New York Shit (Statik remix)
26 - Busta Rhymes feat. Nas - Take Me Away
27 - Lord Sear - Wet Willies Outro
28 - T.I. - What You Know About The Showoff remix!? (Statik remix)
How To DOWNLOAD