The Empire , Big Mike & Jonny Shipes - Good Talk Vol 6 (Hosted By Shiest Bubz)
Submitted by mfizzel on Wed, 10/15/2008 - 2:25pm.
General | Big Mike | Mixtape Torrents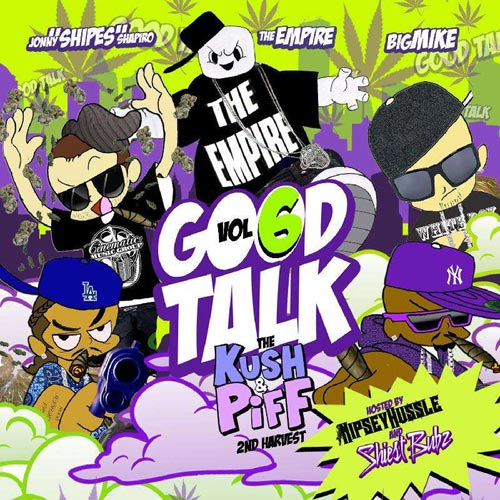 Hosted by LA's Nipsey Hussle & Harlem's Shiest Bubz, features anthems from Yung
Berg, Sean Kingston, the Harlem/BX crew "ATM" formed by Cory Gunz, Smoke Dza &
Numbers and southern lyricist Question.
Presented By Big Mike, The Empire & Jonny Shipes!
01 Big Mike Intro
02 They Roll
03 Kush & Piff Freestyle Pt 1
04 We Bang We Ball
05 Ballin Or Crawlin
06 She Said Stop
09 Bacc On Slauson
10 All About Mine
11 Victory Freestyle
12 Ignorant Nigga
13 Bullets Rmx
14 Some Other Shit
15 Kush & Piff Skit 1
16 Drugs Freestyle
17 Reup
18 Harlem Starz
19 Kush & Piff Skit 2
20 Empire Round Here
21 Yall Na Want
22 Swagger Like Us
23 Kush & Piff Freestyle Pt.2
24 Karma
25 The Biz Rmx
26 38 Special Freestyle
27 Big Mike Outro
28 Blacc Ice Freestyle
29 Lookin So Good
How To DOWNLOAD