The Empire - Southern Slang 11
Submitted by jada1212 on Mon, 01/19/2009 - 1:55pm.
Dirty South | The Empire | Mixtape Torrents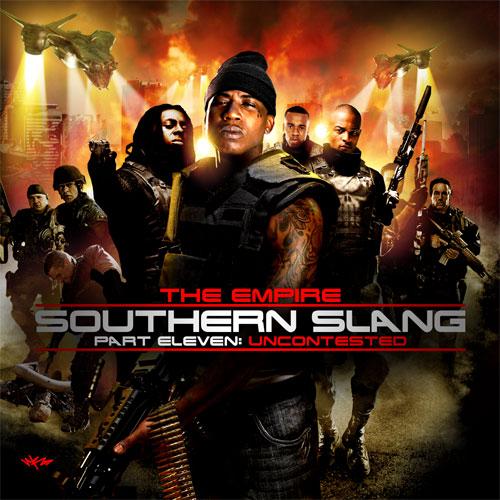 Every record is a world premiere! The Empire is back, with a bunch of exclusives to make you say "holy shhh- where'd u find this!?" Features brand new music from Lil Wayne, TI, Gucci Mane, OJ Da Juiceman, Plies, Shawty Lo, Yo Gotti & more!
1.Lil Wayne-How You Doing (World Premiere)
2.Lil Wayne-Call Of Duty (World Premiere)
3.TI-Mind On My Money (World Premiere)
4.Gucci Mane-Ice Cube (World Premiere)
5.Plies-Bet I Get Off [Not On Album] (World Premiere)
6.Lil Wayne-Filthy (World Premiere)
7.Oj Da Juiceman-Wonderful Life (World Premiere)
8.Young Jeezy-Ridin Round
9.Shawty Lo-Perfect Woman (World Premiere)
10.Ludacris-Bang Bang [Not On Album] (World Premiere)
11.Gucci Mane-Triple Gs (World Premiere)
12.Oj The Juiceman-Washing Powder money (World Premiere)
13.Rocko-Gucci (World Premiere)
14.Gucci Mane Ft Yung La-Do It (World Premiere)
15.Lil Wayne-Breaktime
16.Young Dro Ft Yung La-Dont Yall Know
17.Gucci Mane-Thats Me (World Premiere)
18.Rick Ross-Downsouth Hustlaz (World Premiere)
19.Chubbie Baby
20.Lil Wayne-Murder She Wrote (World Premiere)
21.Plies-Cant Cry (World Premiere)
22.Yung Fresh-Came In [NEXT IN '09]
23.Attitude-Bigger Than Rap [NEXT IN '09]
24.CJ-Logos
How To DOWNLOAD