Benja Styles Presents - Philadelphias Organized Rhime Family (Hosted By Freeway, Jakk Frost & Tana Da Beast)
Submitted by mfizzel on Thu, 08/06/2009 - 9:55am.
East Coast | Mixtape Torrents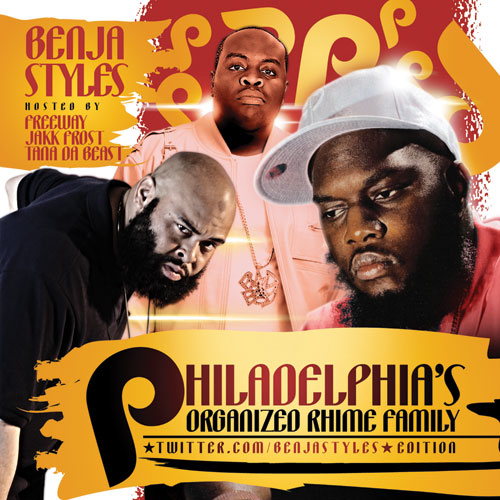 1.Freeway & Jakk Frost & Tana Intro
2.Freeway "We Moving" (New Exclusive)
3.Reignman, Corey Gunz, Murda Mook "Pa 2 Ny"
4.Peedi Crakk "Hot Shyt"
5.Sandman "Make Em All Day"
6.E Ness "It's Yourz" (Exclusive Freestyle)
7.Shizz "Sox In The Air"
8.Kre Forch Ft Gillie Da Kid "Touchin It"
9.Freeway,Jakk Frost,Tek (Smif N Wessun) "Shottaz"(New Exclusive)
10.T.D. Ft Peedi Crakk "Gettin Busy"
11.E Ness "Can't Stop Me"(Exclusive Freestyle)
12.Freeway & Jakk Frost Interlude
13.Jakk Frost, Gillie Da Kid, Black Denero, Oschino,Freeway
"Who They Dealin With" (Produced By Don Cannon)(New Exclusive)
14.Oschino, Gillie Da Kid, Kre Forch "Rock N Roll"
15.Young Chris "Class Of My Own"
16.Meek Mill Ft Oschino "Prolli"
17.Freeway "Bloggers" (1st Single Off "Stimulus Package" Album)
18.E Ness "Super 16's" (Exclusive Freestyle)
19.Mossburg Ft Lloyd "We Back"(Murder Inc)
20.Peedi Crakk "Thanks Ness"
21.Oschino "Break It Down"
22.Young Chris Ft Freeway & Beanie Sigel "The Last Two"
Benja Styles Future Allstar Squad
23.Tekneek "Brand New Bag"(Brand New Bag Album Out Now)
24.Deap "Badlands"
25.Chuck Lawless "Money In The Mattress"
26.Chelsea Lynn "Inches"
27.Freeway, Jakk Frost, Tana Da Beast Outro
How To DOWNLOAD