Big Mike & DJ Diggz - Cruel Summer 2K6 Pt.3
Submitted by mfizzel on Tue, 08/01/2006 - 6:45am.
East Coast | Big Mike | Mixtape Torrents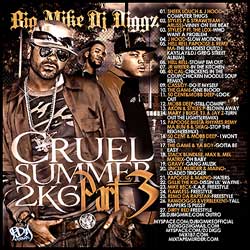 Big Mike is back with a new face to the game, one of 2005's up-and-coming
DJs and a move-maker for '06 and beyond, DJ Diggz. Together, these two are
serving the streets with Cruel and unusual punishment.
Hitting you with a dose of punishment, Mike and Diggz brings you the latest
round of exclusive tracks, freestyles and remixes from hip-hop's hardest of
hardcore.
This monster mixtape features all-new heat from the entire D-Block roster as
well as Uncle Murda, The Game, Cassidy, 50 Cent & Mobb Deep, Hell Rell, Styles
& Akon, 40 Cal, Remy Ma, The Game, Stack Bundles & Byrdgang, Gravy and more.

01. Sheek Louch & J-Hood - Computer
02. Styles P & Straw (of Team Arliss) - Vinny On The Beat (off the Vinny Idol mixtape
03. Styles P feat. The Lox - Who Want A Problem
04. J-Hood - Slow Motion
05. Hell Rell feat. Papoose & Remy Martin - The Hardest Out
06. Hell Rell - Stomp Em Out
07. J.R. Writer - In The Kitchen
08. 40 Cal - Chickens In The Coup (Chicken Noodle Soup remix)
09. Cassidy - Do It Myself
10. The Game - One Blood
11. 50 Cent & Mobb Deep - Look Out
12. Mobb Deep - Still Comin'
13. Akon & Styles P - Blown Away
14. Mary J Blige feat. T.I. & Jay-Z - Turn Off The Lights (remix)
15. Papoose, Busta Rhymes, Remy Martin, Bun B & Shaq - Stop The Reign (remix)
16. 50 Cent & Mobb Deep - I Won't Tell
17. The Game & Ya Boy - Gotta Be Easy
18. Stack Bundles feat. Max B & Mel Matrix - Oh Baby
19. Gravy - Gang Muzik
20. Uncle Murda & Maino - Loaded Trigger
21. Papoose & Maino - Haters
22. Gillie The Kid - Cannon (Dissin' Lil' Wayne)
23. Mike Beck - K.A.R. Freestyle
24. Flawless Freestyle
25. Remo Da Rapstar Freestyle
26. Rawdoggs & Verblekent - Y'all Rappers Is Pussy
27. Dirty Red Freestyle
28. DJ Big Mike Outro
How To DOWNLOAD