Big Mike - Cruel Summer 2K6: When It's Reppin' Time, I Stay On My Grind!
Submitted by mfizzel on Fri, 06/30/2006 - 9:12pm.
East Coast | Big Mike | Mixtape Torrents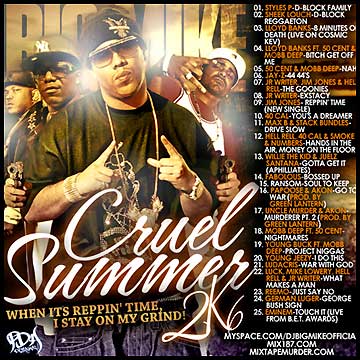 Hip-hop mixtape heavyweight Big Mike is wrapped up in the heat of this
cruel, cruel summer on his latest hip-hop mixtape banger. With the dead of
the summer right around the corner, The Kid recommends you get yourself
some BlueBlockers and SPF 15 and get on your summer grind.
This mixtape features a ton of new joints and exclusives, including headlining
tracks from D-Block, Lloyd Banks, Jay-Z from his Reasonable Doubt concert and
joints from the entire Dipset crew.
Bringing new heat on this mixtape in the form of beat-jackings, remixed flows
and new exclusives, you can expect new joints from Papoose, 50 Cent, Mobb Deep,
Ludacris, Fabolous, Juelz Santana & Willie The Kid, Hell Rell & Stack Bundles,
Uncle Muder and more.

1 - Styles P - D-Block Family
2 - Sheek Louch - D-Block Reggaeton
3 - Lloyd Banks - 8 Minutes Of Death (LIVE On Cosmic Kev)
4 - Lloyd Banks feat. 50 Cent & Mobb Deep - Bitch Get Off Me
5 - 50 Cent & Mobb Deep - Nah
6 - Jay-Z - 44 Fours
7 - J.R. Writer, Jim Jones & Hell Rell - The Goonies
8 - J.R. Writer - Exstacy
9 - Jim Jones - Reppin Time
10 - 40 Cal - You's A Dreamer
11 - Max B & Stack Bundles - Drive Slow
12 - Hell Rell, 40 Cal and Smoke & Numbers - Hands In The Air, Money On The Floor
13 - Willie The Kid & Juelz Santana - Gotta Get It
14 - Fabolous - Bossed Up
15 - Ransom - Soul To Keep
16 - Papoose & Akon - Go To War (produced by DJ Green Lantern)
17 - Uncle Murder & Akon - Murderer, pt. 2 (produced by DJ Green Lantern)
18 - Mobb Deep feat. 50 Cent - Nightmares
19 - Young Buck feat. Mobb Deep - Project Niggas
20 - Young Jeezy - I Do This
21 - Ludacris - War With The God (Dissin' Jeezy & T.I.?)
22 - Luck, Mike Lowery, Hell Rell & J.R. Writer - What Makes A Man
23 - Reemo - Just Say No
24 - German Luger - George Bush Sign
25 - Touch It (Live From B.E.T. Awards)
How To DOWNLOAD