Big Mike - Big Boy Game 10.5 (I'm Sorry Ms Jackson)
Submitted by mfizzel on Wed, 02/08/2006 - 6:53am.
Mixtape Directory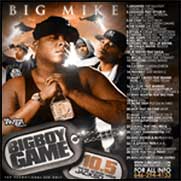 Big Mike is back on some Big Boy sh*t, bringing you this major hip-hop
mixtape featuring exclusives, freestyles, diss records & more. This CD
features an all-new round of D-Block disses against 50 Cent, plus 50 vs.
The Game + all-new sh*t from J-Hood, Hell Rell, Papoose, Cassidy, Big
Pun & Remy Martin, Fabolous, Mase, M..O.P. & 50 Cent, Beanie Sigel...

1 - Jadakiss - The Eulogy (Dissin' 50 Cent)
2 - Jadakiss feat. Styles P. - I'm Sorry Ms. Jackson (Dissin' 50 Cent)
3 - 50 Cent - I'm Not Rich & Still Lyin' (Dissin' The Game)
4 - The Game - 240 Bars (Dissin' 50 Cent & G-Unit)
5 - Styles P. - Crime Connection
6 - J-Hood - You're All Welcome
7 - Jim Jones - The Raw Report
8 - Hell Rell - Soldiers Story
9 - Chubbs, Hell Rell, J.R. Writer, 40 Cal. & A-Mafia - Block Huggerz
10 - J.R. Writer feat. Saga - Welcome To Dipset City
11 - 40 Cal. - Dipset The Dynasty
12 - Papoose - Gang Bang Music
13 - Cassidy - Check, Check (Unreleased)
14 - Freeway - Just When U Thought
15 - Mary J. Blige feat. Beanie Sigel - U Can't Hide From Love (remix)
16 - DJ Clue feat. Mariah Carey, Fabolous & Styles P. - Don't Forget About Us Part 2
17 - Remy Martin feat. Big Pun - Thug Love
18 - Nas - 2006
19 - Mobb Deep - Put 'Em In They Place
20 - M.O.P. feat. 50 Cent - I'll Whip Ya Head Boy (remix)
21 - Mase - Gotta Check On It
22 - Busta Rhymes feat. DMX, Lloyd Banks & Papoose - Touch It (remix)
23 - Squal feat. Hell Rell & Papoose - In These Streets
24 - Corey Gunz & Militia - The Letter P
25 - Mike Beck (K.A.R.) - Read All About It
26 - T.A. & Pistol Pete - K.A.R. Moovement
27 - Drastic - Rappers Is Petrified
28 - Note feat. Killah Priest - They Don't Do That
How To DOWNLOAD