Big Mike - Sam Scarfo: Welcome To The Cain Field
Submitted by mfizzel on Sat, 04/08/2006 - 7:28am.
Mixtape Directory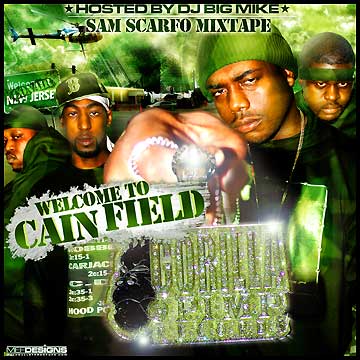 Big Mike co-signs the Gorilla Pimp Sam Scarfo as the Def Jam rookie
readies his debut album Renegade. Originally Jay-Z's 2nd signing after
Hov's move to the label, Scarfo is certified not only in the boardroom
but also in the streets, having won two Fight Klub rap battles for a cool
$30k. This mixtape features all-new tracks, freestyles and NJ anthems.

1 - Big Mike Intro
2 - Check My Gun feat. Big Nut (produced by Flatline)
3 - Who Want It feat. Buju Banton (produced by Blink)
4 - Take 'Em Up Top feat. NOV aka. Killa Black
5 - Thug Medicine feat. Prodigy
6 - Drapped up feat. Straps
7 - Tick Tick feat. Big Nut
8 - I Got More (produced by Midi Mafia)
9 - Heavy Weight Champ (produced by The Arkitects)
10 - Dream feat. Ne-Yo
11 - The Yard feat. Beanie Siegel (produced by Flatline)
12 - Run New Jerz (produced by Midi Mafia)
13 - Homicide (produced by Muscle Men)
14 - Dope Man Part 2
15 - Felony feat. Straps (produced by Presedential Beats)
16 - Rap Phenomenom (produced by EZ LP)
17 - Gangsta Call feat. Ness & 40 Glocc (produced by Indiana Jones)
18 - U Can Never Be Me (produced by Heatmakers)
19 - New York Minute (produced by Fury)
20 - It's Aight feat. 40 Glocc & Prodigy (produced by Flatline)
21 - It's Just That Easy feat. Straps & Nov (produced by Flatline)
22 - G That Is feat. Nov aka. Killa Black & Straps (produced by Flatline)
How To DOWNLOAD