Cardan - The Rebirth 2 (Hosted By DJ Suss One & DJ Absolut)
Submitted by mfizzel on Fri, 09/26/2008 - 3:52pm.
East Coast | DJ Absolut | Mixtape Torrents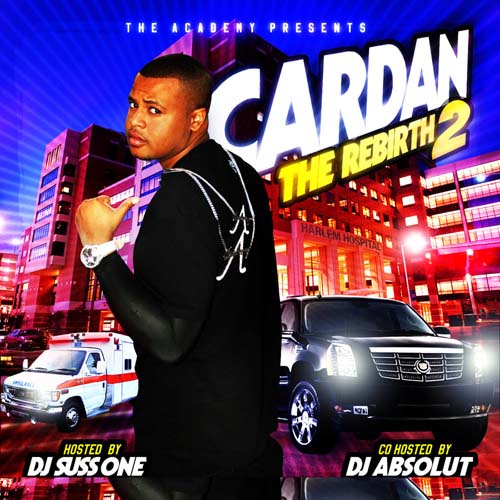 CARDAN has released his new mixtape entitled "The Rebirth 2" hosted by DJ SUSS
ONE AND DJ ABSOLUT and featuring appearances from Swizz Beatz, Fat Joe, Ron
Dealz, Lee Carr, Bathgate, Red Cafe and many others. On this mixtape CARDAN
showcases his energetic and versitile flow, witty wordsplay and dope delivery.
His hit record "Billion Dolla Shift" (the street mix) features unforgettable
appearances from Swizz Beatz and Red Cafe was produced by J Buttah. "Billion
Dolla Shift" has been getting heavy rotation on NY's Hot 97 and Power 105.1 as
well as on numerous mixtape shows including DJ Clue, DJ Envy, DJ Khalid and
Bobby Trends.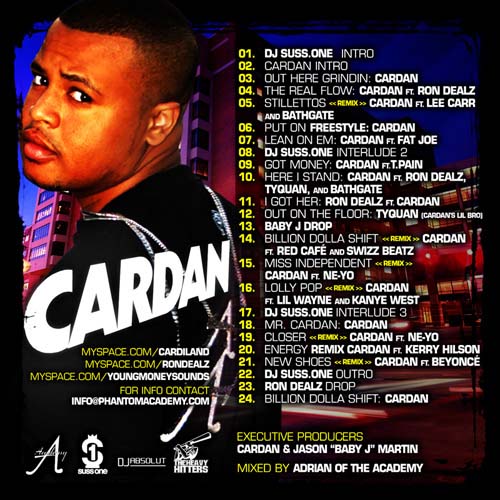 01 Dj Sus One Intro
02 Cardan Intro
03 Out Here Grindin
04 The Real Flow Ft Ron Dealz
05 Stillettos Remix Ft Cardan & Bathgate
06 Put On Freestyle
07 Lean On Em Ft Fat Joe...
08 Dj Suss One Skit 2
09 Got Money
10 Here I Stand Ft Ron Dealz Tyquan & Bathgate
11 Ron Dealz Ft Cardan I Got Her
12 Tyquan Out On The Floor Cardans Lil Brother
13 Baby J Skit
14 Billion Dollashift Street Mix Ft Redcafe & Swizzbeatz
15 Ne-Yo Miss Independent Remix Ft Carda
16 Lollypop Remix Ft Lil Wayne And Kanye
17 Dj Suss Skit 3
18 Mr. Cardan
19 Ne-Yo Closer Remix Ft Cardan
20 Keri Hilson Energy Remix Ft Cardan
21 Beyonce New Shoes Remix Ft Cardan
22 Dj Suss One Skit 4
23 Ron Dealz Skit
24 Billion Dolla Shift Original!
How To DOWNLOAD