DJ E.NYCE - Postaboy: Real Recognize Real
Submitted by mfizzel on Sat, 02/18/2006 - 8:34am.
Mixtape Directory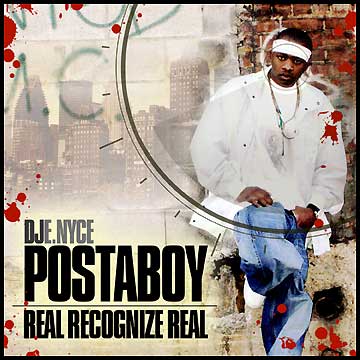 DJ E.NYCE puts it down heavy with yet another heavyweight under-
ground NYC emcee, following up his crazy successful Jae Millz mix
with this Postaboy mixtape. This Harlem emcee took BET's Freestyle
Friday 7 weeks deep before being retired from the prestigious free-
style competition. This mix features more that 25 new & classic joints.

1 - Intro
2 - Alchemist Freestyle
3 - Harlem, New York Freestyle
4 - God By My Side
5 - Number 1 feat. Nelly & The Clipse
6 - Real Reckonize Real feat. Prodigy
7 - 25 To Life Freestyle
8 - Winning Team ABC Newz feat. Cardan & E.Ness
9 - I Am Freestyle
10 - I Remember feat. Jae Millz
11 - Young Blood feat. Dylon
12 - Phone Tap With P.Reala
13 - Computer Virus
14 - Everything Happens For A Reason feat. Starski
15 - Purple Carpet feat. Raekwon
16 - Neo Hiphop feat. Talib Kweli
17 - Rubberband Freestyle
18 - Oh Yeah feat. Jae Millz & Cardan
19 - Band From Harlem Freestyle With P.Realagta
20 - Blow Ya Mind With P.Reala
21 - Gansta & A Gentlemen
22 - 2 Flagz Iz Up feat. Young Rz
23 - So High Freestyle
24 - Sharazon (Winning Team 1St Lady) The Verdict
25 - The Co-Sign
26 - N.Y.C. Stand Up feat. Sire Castro & Ali Vegas
How To DOWNLOAD