DJ Highrolla & DJ Rico Presents From The Club To The Sheets 2K7 (4CD)
Submitted by t0mmyb0y1983 on Sat, 03/31/2007 - 8:50pm.
Chopped & Screwed | Mixtape Torrents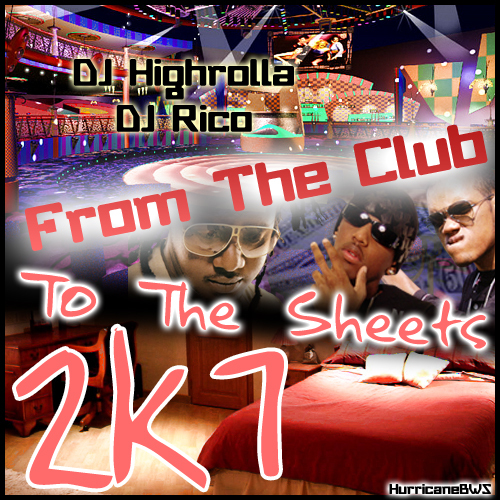 Whut Up Mixfiend Family/Mixtapetorrent Family... Its Yo Boy Dj Highrolla Again.. In Here Wit My Nigga Dj Rico..
Together We Are Unstoppable.. and Will Bust Yo Speakers On Sight..U've Heard Southern Education From me and Rico.
Now IT Time For Our Second Mixtape... Reinventing Mixtape Fo Life.. U Know What It Is Just Check It Out.. U Want Be Let Down..
4 Disc!! NIGGA.. WE WENT ALL OUT..Bigg Upps Hurricane BWS,Huge,DjTDUBB AND ALL OTHER DJ'S THAT BE HOLDIN IT DOWN.. I GIVE YALL ALL RESPECT..
Shit IM ONLY 16 So ALL YALL I LOOK UP TO...
Disc 1 [From The Club]
1.Intro [Dj Highrolla & Dj Rico]
2.Got Money- Dat Nooka
3.Come Up- Twista
4.She A Freak- Filthey Feat Lil John
5.This Him- Luch Millions Feat Rich Boy
6.They Don't Wanna Play- Mims Ft Bun B
7.Rockstar- Shop Boyz
9.Wipe Me Down- Lil Boosie Ft Lil Webbie
10.My Banana- Gemstar
11.Check- Young Jeezy Feat U.S.D.A.
12.Do The Hiesman- Hiesman Boyz
13.We Boss Hoggin- SLim Thug
14.Its A Shame- Devin The Dude
15.Beamers and Benzes- Trick Daddy Ft T.I.
16.Ride On 4's- J Dawg Ft Slim Thug
17. Kat Willams- Shootin At The Club Skit
Disc 2 [From The Club]
1.Jamming Screw-Z-ro
2.Boy Looky Here-Rich Boi
3.Laid Back-PTK Ft. Paul Wall
4.Whip Game- Twista Lil Wayne
5.Sticky-Pitbull Ft. Jim Jones
6.Dripple- Gucci Mane
7.Diamonds On My chain- Fabolous Feat Jadakiss
8.Drop Top Chevy- 334 MoB
9.I Do It For The Gangstaz-Trae Lil O, & Yukmouth
10.Shining When I'm riding-Question
11.Clap On- 8Ball and MJG Feat Yung Joc
12.Problem With that-Slim Thug
13.In Your Hood-Brisco Feat Lil Wayne
14.Porche It Out-PSC Ft. Jim Jones
15.Gettin This Money-Slick Pulla Ft. Yo Gotti
16.We Takin Over-DjKhaledFt Akon,T.I,Rick Ross, & Lil Wayne
Disc 3 [To The Sheets]
1.Stayin Power- Barry White
2.Anytime-Brian Mcknight
3.Buddy Remix- Music Soulchild Feat Freeway
4.Don't Matter- Akon
5.3.A.M- Young Jeezy Ft Timbaland
6.Shawty- Plies Feat T-Pain
7.Why She- The One
8.Certified- Lloyd
9.Chocolate Fee and Redbones- Twista Feat JP
10.Hold N Back- Marques Houston
11.You Techno Remix- Lloyd Ft Lil Wayne
12.I Know- Joe
13.Buy U A Drank- T-Pain Feat Yung Joc
14.Too Young- Pretty Ricky
Disc 4 [To The Sheets]
1.Fire- Paul Wall Feat Trina
2.With Love- Hillary Duff Feat Slim Thug
3.What I Need- New Edition
4.Skit- Katt Williams
5.Never Never- Akon
6.Skit 2- Katt Williams (Funny)
7.Like A Boy- Ciara
8.Thug Like Me-LeMarvin
9.In My Songs- Gerald Levert
10.Lock U Down- Mya Feat Lil Wayne
11.That's My Word- Unknown
12.Searchin For Love- Pretty Ricky
13.Crusin- Three Six Mafia Feat 112
14.So Into You Snippet- Olivia
15.Circle- Marques Houston
BE ON THE LOOKOUT FO ANOTHER MIXTAPE COMING REAL SOON..
MENACE'S TO SOCIETY...!!!!! 2007 ME AND DJ RICO..
AND BE ON THE LOOKOUT FO DJ RICO NEXT SOLO MIXTAPE.. SLOWIN DOWN YO TRUNK Vol.3 AND MY SOLO MIXTAPE... CAN'T BE STOPPED 2K7!!
HOLLA AT YO BOY
How To DOWNLOAD