DJ Rico & DJ Highrolla Presents Slowin Down Yo Trunk Vol.4 (Hosted By J-Juce) (3CD)
Submitted by HighRolla on Wed, 07/11/2007 - 8:03am.
Chopped & Screwed | Mixtape Torrents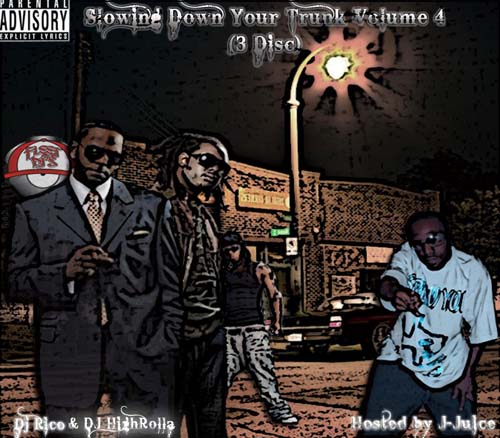 Disc 1
1.Intro- Dj Highrolla & Dj Rico
2.Purple Syrup Sipper- J-Juce Feat Kottonmouth
3.White Girl remix- U.S.D.A. Feat Lil Wayne
4.Cut it Out- Nelly Ft Pimp C & Sean Paul
5.Ay Ay bay bay- Hurricane Chris
6.Suga Daddy- 3'6 Mafia Feat Project Pat
7.Im So Throwed- Hawk Feat Lil Keke,Big Pokey
8.I Get It- 50 Cent [NEW SHIT]
9.Mobbin Thru Yo Hood- Filthy Rich Feat Boss
10.Houston Anthem- Filthy Rich Feat Paul Wall
11.Im Glad To Be Alive- Huey Feat T-Pain
12.I Feel Like- Lil Wayne
13.Block Walk-Juce
14.Im So Fly-Gorilla Zoe
15.Godfather (Flow)- Kaewun
16.[Bonus]Bangin Screw- Paul Wall
Disc 2
1.Lil boosie feat Big head, Webbie, Foxx - Adios
2.3'6 Mafia- Like money
3.Nesto-My Chevy(Ridin!)
4.Nitti- Beat in my Trunk
5.3 Deep- watch My Shoes
6.KaeWun-Chose me(Fresh!)
7.Dat Nooka- Dats Pimpin(Parking Lot)
8.David Banner feat Ugk- Suicide doors
9.ShopBoyz-Bowen Homes
10.R.Kelly feat Ludacris,Kid Rock-Rockstar
11.Lil Boosie feat Phat,Big Head - Southside
12.3 Deep-Do it Stick It
13.Crime Mob-I Shine Cause I Grind
14.Lil Wayne- I Can't Feel My Face
15.Dj Khaled feat Bun B and Paul Wall- Coming Down
Disc 3
1.Coming From The West Side-Trae Feat Jayton & Lil Boss
2.Interlude-J-Juce
3.Flossy [Exclusive Banger!!!!!]- J-Juce
4.Hip Hop Police-Chamillionaire Feat Slick Rick
5.Corporate Thuggin- U.S.D.A.
6.Playa 4 Life- Lil Flip Feat Chamillionaire
7.My 6-4-Mike Jones Feat Bun B & Snoop Dogg
8.Help On the Way- T.I.
9.No Sweat-T.I. Feat Big Kuntry
10.Hurt- T.I. Feat Big Kuntry & Busta Rhymes
11.Isa Playa- U.G.K. Feat Twista & Z-ro
12.S On My Chest- Lil Wayne & Birdman
13.Poppin Bottles- Lil Wayne & Birdman
14.The Takeover [Exclusive]- Camino
15.How U Like Me Now- Lil Wayne
16.Like This- Freeky Zeeky Feat Sen
17.Interlude- Juce
18.Swangin & Bangin [Texas Classic]!!!!-E.S.G.
Cover done by My boy Dj Rico..LOL..!!Chea...
CHOPPED & SCREWED!!!!!!!!!!!!!!!!!!!!!!!!!!!!!!!!!!!!!!!!!!!!!!!!!!!!!!!
Well Its Finnally Here...U Know We Been Waitin For this For A While Mayne..Fa Sho its Going
Down No Doubt...We Had Some Cover Problems..But We Kept Pushin..Yea..and Im
Still Claimin This The Best Mixtape In The Game...Yea I Got Balls Muthafukas...SHOUTS
OUT TO J-JUCE FOR HOSTIN THE TAPE AND GIVING US THEM BANGIN TRACKS OUTT HIS CAMP..
MIXTAPE COMING ON THE WAY FROM J-JUCE..We Makin that Shit out Now..Shouts to Kaewun..Outt The
Damn Dj Rico Camp...U Know the bizz...Shouts To My Boy HurricaneBWS Make Sure U Get his BTW6 Hosted By Shade Shiest.hope u get yo cpu back homie..
Shouts To..Huge.DjTdubb..All The Fleetdj's..Shoot2kill...Wit-e Beats....Rafimaister..and So Many Fuckin More
...BE ON THE LOOKOUT FOR MORE FUCKIN MIXTAPES ON THE WAY!!!!!!...I GOTTA HUSTLE UP BEFORE SCHOOL START BACK UP...
DJ RICO WISH HIM WELL ON HIS FOOT Which Was Third Degree Burned With Some Hot Oil...He'll be Back At Also..
Holla @ My Boy J-Juce
Holla @ Me
Holla @ Dj Rico
How To DOWNLOAD