The Come Up DVD Vol 17 (Lil Wayne Edition)
Submitted by hardb0dy on Thu, 02/28/2008 - 8:15am.
General | Mixtape Torrents | Singles / Diss Tracks / Promo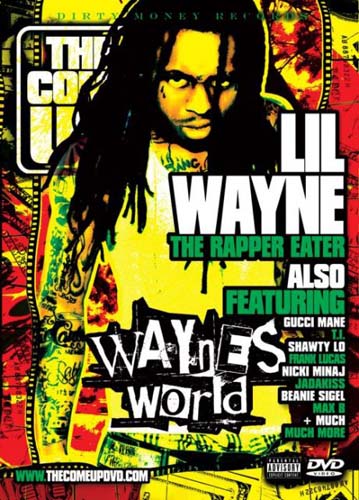 Download VLC Media Player (Free) to watch this DVD
THE COME UP DVD creator and prolific street DVD vanguard Fendi
called us up (SHOT OUT! Dirty Money, Nicki) and wanted MixTrap to
know he is done with the DVD game -- he's hangin 'em up "for Good."
FENDI let MixTrap know he's going all out for this special grande
finale. So who would he call on to cover his final DVD? Who else?
None other than Weezy F. Baby aka. LIL' WAYNE
In fact, make this the newest (and only) LIL' WAYNE EDITION DVD
in your collection. Because although this DVD has has more than
four hours of footage of your favorite artists (name anybody
that's hot, they're on here...), this DVD is bringing you TWO
entire hours alone of the hottest emcee in the game: The Carter.
So with half of the 4 hours of footage focused solely on Lil' Weezy,
who's featured in the other a2 hours? (remember, 2 hours is the
normal length of a regular DVD from The Come Up)
FEATURED IN THIS DVD: T.I., Jadakiss, Joe Budden, T.I., Shawty Lo,
Beanie Sigel, Max B (Dissin' ByrdGang), Gucci Mane, Nicki Minaj
(Lil' Wayne's female protege), the American Gangster Frank Lucas,
and much more.
>> THIS 4+ HOUR DVD comes with entirely new, Deluxe Packaging that
includes a 20-page booklet / DVD inset commemorating this special
Lil' Wayne Edition DVD.
How To DOWNLOAD