SMACK DVD Magazine Vol 14
Submitted by hardb0dy on Mon, 12/15/2008 - 5:45pm.
General | Mixtape Torrents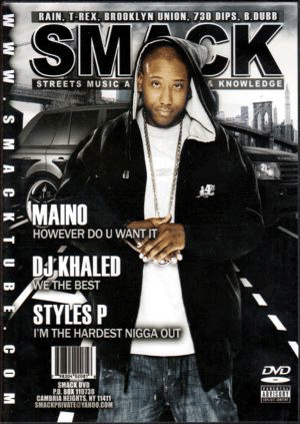 Download VLC Media Player (Free) to watch this DVD
World Famous Smack Dvd Is Back With The 14th Installment! Smack Is Always Known To Get You That Exclusive Footage Of All Your Favorite Rappers, And This Edition Does Not Dissapoint!
DVD Features:
Maino - However Do U Want It
DJ Khaled - We the Best
Styles P - I'm the Hardest Nigga Out
Swizz Beatz - Getting that Oprah
Jadakiss - The Last Kiss
Juelz Santana - Introduces Skull Gang
Plus more from: Jim Jones, Remy Martin, Bang Bang Boogie, 730 Dips, T-Rex & Rain!
Download VLC Media Player (Free) to watch this DVD
How To DOWNLOAD