Clinton Sparks Presents: DJ Rick Rude - Dancehall On Smash Vol. 3
Submitted by romeo on Mon, 10/23/2006 - 11:59am.
Dance Hall | Clinton Sparks | Mixtape Torrents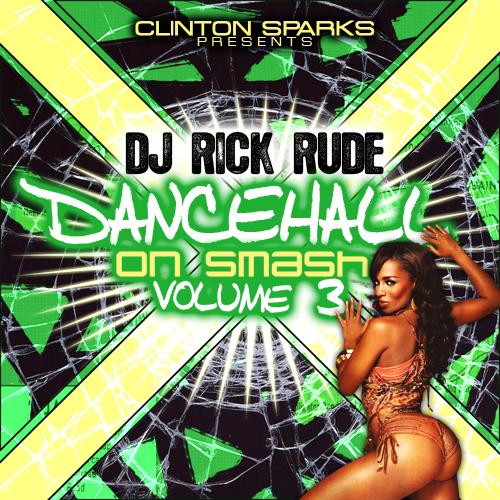 DJ Rick Rude returns with his third edition of his Dancehall on Smash
series, and brings back Mr. Get Familiar himself, Clinton Sparks to
hold him down.
Featuring over 60 new dancehall tracks including joints from Cham,
Elephant Man, Bounty Killa, Capleton, T.O.K., Sizzla, Tony Matterhorn,
Vybz Kartel, Wyclef Jean, and more.
Flamenco Riddim
1 - Clinton Sparks Intro / Cezar - Touch It
2 - Kris Kelly - Swing High
3 - Elephant Man - Me Like It
4 - Flava Unit - Let Me See It
Ritz Karlton Riddim
5 - Alaine - Not My Man
6 - Cherine Anderson - Cookies
7 - Yogi - Show Me Love
8 - Rik Roc - Want Her Forever
Step Out Riddim
9 - Busy Signal - Step Out
10 - Vybz Kartel - License To Kill
11 - Bounty Killer - Dem Deh
12 - Mr. Vegas - Shut Up
Gully Riddim
13 - Alaine - Hurry
14 - Capleton - Wah Dis
15 - Capleton - Hit Maker
16 - Vybz Kartel - Gunshot
17 - Voicemail feat. Assassin - Talk Bout
Mad Indian Riddim
18 - Vybz Kartel - Dutty Wine
19 - Wayne Wonder feat. Texture - Ready Fi Dem
20 - Elephant Man - Roll Out
21 - T.O.K. - Not The Same
Full Draw Riddim
22 - Chico - My Life
23 - Elephant Man - Buck Out
24 - Mr. Easy - Gangsta Life
25 - T.O.K. - Full Draw
26 - Cham feat. Rihanna - Boom Boom
Bad Belly Riddim
27 - Mr. Easy - Try Fi Diss
28 - Tifa - I'm So Sorry
29 - T.O.K. - Guns Pop Off
30 - Capleton - Who Dem (Bellyas)
31 - Elephant Man - Watchie Pum Pum (Bellyas)
Deh Time Deh Riddim
32 - Alaine - Give U What U Want
33 - Elephant Man - Gal Bruk
34 - Mr. Easy - Tek Weh We Self
35 - Leftside And Esco - Negative
36 - Flava Unit - We Nuh Easy
37 - All Out
Angrier Management Riddim
38 - Sizzla - No Way
39 - Bounty Killer - Gun Heaven
40 - Vybz Kartel - ABC Sex
Gully Slime Riddim
41 - Tony Matterhorn - Goodas
42 - Elephant Man - Ready Fi Video
Sidewalk University Riddim
43 - Tony Matterhorn - Man From Mars
44 - Christopher - Wine Up
45 - Wyclef Jean - Toppa Di List
Baila Baila Riddim
46 - Chantella - Baila
47 - Major Christi - Snatch You
Wash Pan Riddim
48 - Daville - Grown Man Cry
49 - Elephant Man - Tight Zum Zum
Hype Time Riddim
50 - Mr. Easy - She Likes It
51 - Wayne Marshall - Caught Up
52 - Elephant Man - Stop Gwaan Tight
53 - Jahzel - Fantasy
54 - 2Play And Raghav - So Confused
55 - Chico - I Love You
56 - Brick And Lace - Get That Clear
Culture Set/Heavenly Riddim
57 - Alaine - Heavenly
58 - Capleton - Jah Protect Us
59 - Morgan Heritage - Have Been Loving You
60 - Sizzla - You Can Get My Love
61 - Collie Buddz - Come Around
62- Mighty Mystic feat. Steven Thunder - Better Times
How To DOWNLOAD