DJ Chuck T & Bad Boy Sean - Down South Slangin' Blends #2
Submitted by mfizzel on Fri, 09/15/2006 - 4:19pm.
Blends | DJ Chuck T | Mixtape Torrents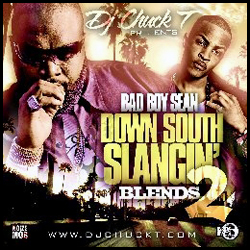 Representing for the Noize Mob family, DJ Chuck T presents the 2nd edition
of his Down South Slangin' Blends mixtape, this time featuring the remixing
work of Bad Boy Sean.
No doubt the South is running hip-hop right now, so putting together an
entire mixtape of Southern blends & remixes, Chuck and Sean bring you the
sequel dto another Down South Slangin' special edition mixtape.
This mixtape features blends with Yung Joc, Lil' Jon, Paul Wall & Mike Jones,
Jeezy, Slim Thug, Lil' Flip, Chamillionaire, Rick Ross, UGK, T.I. & Young
Dro and more.

1 - Intro (Mixed By DJ Shaun)
2 - Lil' Jon feat. E-40- Snap Your Fingers b/w Its Goin Down & In The Hood (DSS blend)
3 - Trae feat. Yung Joc- In The Hood b/w Money Maker & Billion Bucks (DSS blend)
4 - Lil' Flip feat. Mannie Fresh- What It Do b/w And Then What & Whats The Biz (DSS blend)
5 - Yung Joc- Its Goin Down b/w What It Iz & On Sum Real Shit (DSS blend)
6 - Chamillionaire feat. Lil' Flip- Turn It Up b/w Chop Chop (DSS blend)
7 - Bun B feat. Lil' Flip- Pop Trunk (Badboysean Refix)
8 - Paul Wall feat. Mike Jones- Sittin On 23s (Badboysean Refix)
9 - Young Jeezy feat. Jay-Z- Go Crazy Remix b/w Guess Whos Back & Hustlers Ambition (DSS blend)
10 - Lil' Wayne- Hustlers Muzik b/w Position Of Power (DSS blend)
11 - .Hot Boyz- Money And Cars (Badboysean Refix)
12 - Youngbloodz- Chop Chop b/w Bounce Wit Me & Ridin Rims (DSS blend)
13 - Lil' Wayne feat. Baby- Stuntin Like My Dadddy b/w I Dont Like The Look Rmx & Chill (DSS blend)
14 - Dem Franchize Boyz- Ridin Rims b/w 24S & Way I Be Leanin (DSS blend)
15 - Slim Thug- Im A G (Badboysean Refix)
16 - Shawnna feat. Too $Hort- Gettin Sum b/w Im Pimpin & Gimme Head Til Im Dead (DSS blend)
17 - Young Dro feat. T.I.- Shoulder Lean b/w Rock Yo Hips & Suckas (DSS blend)
18 - Three 6 Mafia- Poppin My Collar Remix b/w What You Know & Body Rock (DSS blend)
19 - T.I.- What You Know b/w Poppin My Collar & Kryptonite (DSS blend)
20 - Letoya Luckett Drop
21 - Rick Ross feat. Young Jeezy- Hustlin Remix b/w Chunkin Up Da Deuce & Like A Pimp (DSS blend)
22 - UGK - Pourin Up b/w Dont Want Drama & Hustlin (DSS blend)
23 - Scarface feat. Young Buck & Slim Thug- Miss Mary (Badboysean Refix)
24 - Bun B feat. Mike Jones & Trey Songz- Hold You Down b/w Some Cut & Sex Faces (DSS blend)
How To DOWNLOAD