DJ Chuck T - Sexxxplicit Vol.20
Submitted by mfizzel on Thu, 08/10/2006 - 6:51am.
R&B | DJ Chuck T | Mixtape Torrents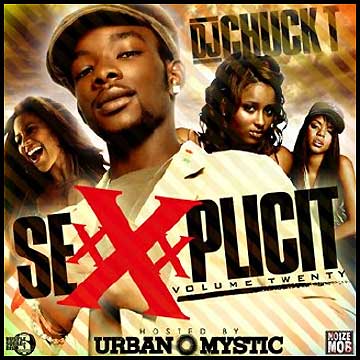 The Carolina King DJ Chuck T is joined by songwriter/singer/producer Urban Mystic for this
special 20th volume of the sexy R&B mixtape series Sexxxplicit.
Bringing you some 'Ghetto Revelations' and sultry R&B, the minister's son puts his soul into
his music and Chuck T had to put him on.
This sexy R&B mixtape features new club jams, bedroom tunes and lounging joints from Janet Jackson,
NeYo, Megan Rochelle, Tyrese & Chingy, Cassie, Nelly Furtado & Rick Ross, Bobby Valentino, J-Shin
& T-Pain and more.

1 - Urban Mystic Intro
2 - Torn (remix) - Letoya Luckett feat. Mike Jones & Rick Ross
3 - Call On Me - Janet Jackson feat. Nelly
4 - Pulling Me Back - Chingy feat. Tyrese
5 - Unappreciated - Cherish
6 - Say - Method Ma
7 - I Still - Megan Rochelle
8 - Smokin' Trees (remix) - Ray J feat. Nate Dogg, Snoop Dogg & Slim Thug
9 - Urban Mystic Interlude
10 - Me and You (remix) - Cassie feat. P. Diddy & Young Joc
11 - Entourage - Omarion
12 - DeJaVu - Beyonce & Jay-Z
13 - Ain't No Other Man - Christina Aguilera
14 - Urban Mystic Interlude
15 - I Refuse (remix) - Urban Mystic feat. Rick Ross
16 - Its Ok Boy - Kandi
17 - Sent Me An Email - J-Shin feat. T-Pain
18 - Wreck - Bobby Valentino
19 - Urban Mystic Interlude
20 - Everytime The Beat Drop - Monica feat. Dem Franchise Boys
21 - Promiscous (remix) - Nelly Furtado feat. Rick Ross
22 - Get Up - Ciara feat. Chamillionaire
23 - Do It - Cherish feat. Chingy, Jody Breeze, and Young Joc
24 - Sexy Love (remix) - Ne-Yo feat. Tru Life
25 - You Should Be My Girl - Sammie
26 - Show Stopper - Danity Kane
27 - About Us - Brooke Hogan feat. Paul Wall
28 - Emergency - Kelis feat. Raphael Saadiq
29 - Floating - Megan Rochelle
30 - Urban Mystic Outro
How To DOWNLOAD