Tapemasters Inc. - The Future Of R&B #9.5
Submitted by mfizzel on Sat, 07/01/2006 - 8:29am.
R&B | Tapemasters Inc | Mixtape Torrents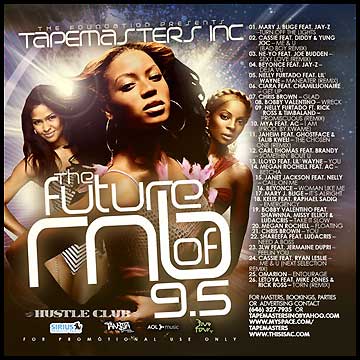 Always putting down a consistent dose of the hottest new R&B with its
R&B series The Future of R&B, Tapemasters Inc. once again keeps you
tuned to the hottest music out. Featuring new tracks, club bangers, slow
jams, cameos & remixes from Ne-Yo, Cassie, Chris Brown, Ciara, Mya,
Megan Rochelle, Beyonce, Mary J Blige & Jay-Z, Kelis, Nelly Furtado &
Rick Ross, Kelis, Jaheim w/ Ghostface + Talib Kweli, Missy, Janey/Nelly.

1 - Mary J. Blige feat. Jay-Z - Turn Off The Lights
2 - Cassie feat. Diddy & Yung Joc - Me & U (Bad Boy remix)
3 - Ne-Yo feat. Joe Budden - Sexy Love (remix)
4 - Beyonce feat. Jay-Z - Deja Vu
5 - Nelly Furtado feat. Lil' Wayne - Maneater (remix)
6 - Ciara feat. Chamillionaire - Get Up
7 - Chris Brown - Glad
8 - Bobby Valentino - Wreck
9 - Nelly Furtado feat. Rick Ross - Promiscuous (remix)
10 - Mya feat. AC - I Am (produced by Kwame)
11 - Jaheim feat. Ghostface & Talib Kweli - Chosen On (remix)
12 - Carl Thomas feat. Brandy - Somethin' Bout U
13 - Lloyd feat. Lil' Wayne - You
14 - Megan Rochelle feat. AC - Betcha
15 - Janet Jackson feat. Nelly - Call On Me
16 - Beyonce - Woman Like Me
17 - Mary J. Blige - It's Alright
18 - Kelis feat. Raphael Sadiq - Emergency
19 - Bobby Valentino feat. Shawnna, Missy Elliot & Ludacris - Take It Slow
20 - Megan Rochelle - Floating
21 - Chris Brown - You
22 - Shareefa feat. Ludacris - Need A Boss
23 - 3LW feat. JD - Feelin' You
24 - Cassie feat. Ryan Leslie - Me & U (Next Selection remix)
25 - Omarion - Entourage
26 - Letoya feat. Mike Jones & Rick Ross - Torn (remix)
How To DOWNLOAD