DJ Smallz - Dirty R&B #13
Submitted by mfizzel on Wed, 07/12/2006 - 5:59am.
R&B | DJ Smallz | Mixtape Torrents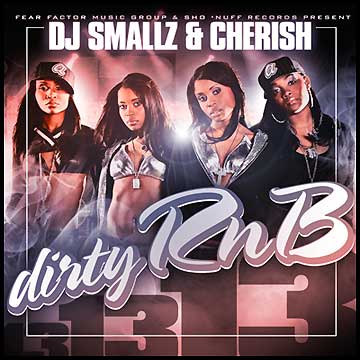 DJ Smallz and his sexy Southern R&B mixtape series Dirty R&B have helped
introduce the mixtape world to several up-and-coming Southern R&B acts,
including Trey Songz, Tori Alamaze, Ciara, T-Pain and Chris Brown.
This time helping out Jazze Pha and his new Sho' Nuff recording act Cherish
(the ATL's hottest new female R&B quartet) as they ready their debut album,
DJ Smallz drops the lucky 13th edition of the popular Dirty R&B.
This mixtape features Southern R&B, remixes and slow jams from Cassie & Yung
Joc, Ciara & Chamillionaire, Janet Jackson & Nelly, Beyonce, Eve & T.I., Monica
& Dem Franchize Boyz, Plies & Akon, JD, Pitbull & Urban Mystic, Shawnna & Bobby
Valentino and more.

1 - DJ Smallz & Cherish – Dirty R&B Intro
2 - Eve feat. T.I. – Cash Flow
3 - Beyonce feat. Jay-Z – Déjà Vu
4 - Ciara feat. Chamillionaire – Get Up
5 - Janet Jackson feat. Nelly – Call On Me
6 - 3LW feat. Jermaine Dupri – Feelin' You
7 - Cassie feat. Diddy & Yung Joc – Me & You (remix)
8 - LeToya feat. Mike Jones, Rick Ross & Jermaine Dupri – Torn (remix)
9 - Shawnna feat. Ludacris, Missy Elliot & Bobby Valentino – Take ItSlow (remix)
10 - Cherish feat. Young Joc, Jody Breeze, Chingy & Fabo (of D4L) – Do It, To It (remix)
11 - Rich Boy feat. Snoop Dogg & Gangsta Boo – Break A Nigga Off (remix)
12 - Monica feat. Dem Franchize Boyz – Everytime The Beat Drops
13 - Jaime Foxx feat. Twista – DJ Play A Love Song (Collipark remix)
14 - Nelly Furtado feat. Rick Ross – Promiscuous Girl (remix)
15 - Frankie J feat. Slim Thug & Mannie Fresh – That Girl
16 - David Banner feat. Dogg Pound – Fakin' Ass Hoes
17 - Paul Wall feat. Dogg Pound – Make Dat Pussy Talk
18 - Nelly Furtado feat. Lil' Wayne – Man Eater (remix)
19 - One Chance feat. Fabo (of D4L) – Look At Her
20 - Chingy feat. Mr. Collipark – Nasty Girl
21 - Plies feat. Akon – I Wanna Fuck You
22 - Yung Joc feat. Marques Houston – 1st Time
23 - Field Mob feat. Bobby Valentino – Sorry Baby
24 - Lloyd feat. Lil' Wayne – You (remix)
25 - Kandi feat. Lil' Scrappy – Keep It Gangsta
26 - Urban Mystic feat. Pitbull – Handle This
27 - J-Shin feat. T-Pain – Sent Me An E-mail
28 - DJ Smallz & Cherish – Dirty R&B Outro
How To DOWNLOAD