DJ Smallz & LeToya - Dirty R&B #14
Submitted by mfizzel on Sun, 08/27/2006 - 5:38am.
R&B | DJ Smallz | Mixtape Torrents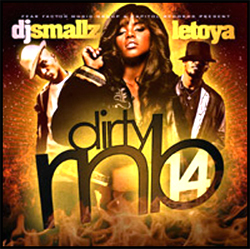 DJ Smallz is back with his newest edition of the sexy Southern R&B mixtape
series Dirty R&B. Along for the ride is former (and original) Destiny's
Child member LeToya Luckett. Reintroducing herself to the music industry,
the H-Town diva drops her last name and hits the mixtape circuit with Mr.
Southern Smoke to pump up her solo debut album.
This mixtape features Southern R&B, remixes and slow jams from Beyonce &
Swizz Beatz, Danity Kane, Janet Jackson and Nelly, E-40 w/ Juelz Santana
and Snoop Dogg, Pitbull w/ Lil' Jon and the Ying Yang Twins, Nelly Furtado,
Frankie J, Cassie, Cherish, and more.

1 - DJ Smallz & LeToya – Dirty R&B Intro
2 - Beyonce feat. Swizz Beatz – Ring The Alarm
3 - Danity Kane feat. Diddy & Yung Joc - Showstopper
4 - Mary J. Blige feat. T.I. & Jay-Z – Turn Off The Lights
5 - Janet Jackson feat. Nelly – Call On Me (Lil' Jon remix)
6 - E-40 feat. Juelz Santana & Snoop Dogg – U & Dat (remix)
7 - Pitbull feat. Lil' Jon & Ying Yang Twins – Bojangles (remix)
8 - Plies feat. Snoop Dogg & Akon – I Wanna Fuck You Pt 2
9 - Kerry Hilson feat. Stat Quo & Snoop Dogg – Happy Juice
10 - Frankie J feat. Slim Thug & Chamillionaire – That Girl (remix)
11 - Nelly Furtado feat. Pitbull & Rick Ross – Promiscuous (remix)
12 - Kelis feat. Slim Thug & Smitty – Still Bossy
13 - Tyrese feat. Jagged Edge – Hey Lil' Mama
14 - Danity Kane feat. T.I. – Touch My Body
15 - Cassie feat. Pitbull – Me & U (remix)
16 - Southern Girl feat. Yung Joc – Ohh
17 - 3LW feat. Yung Joc – Bout It
18 - Cherish feat. Jazze Pha – That Boi
19 - Ludacris feat. Pharrell – Money Maker
20 - Pharrell feat. Slim Thug – Keep It Playa
21 - Chingy feat. Fatman Scoop – Let's Ride
22 - Jack Bona feat. Bohagon & Lil' Jon – Fuck'd Up
23 - Lyfe Jennings feat. Young Buck – Slow Down
24 - Nicole feat. Mannie Fresh – On & On
25 - Noe Good feat. Paul Wall – Get It 2 Go
26 - Razah feat. Juvenile & Bun B – We Ridin'
27 - Xxzotic feat. Pimp C – Caught Up (remix)
28 - DJ Smallz & LeToya – Dirty R&B Outro
How To DOWNLOAD