DJ Diggz -The Contraband Kid (Hosted By Mobb Deep & Nyce)
Submitted by mfizzel on Thu, 09/21/2006 - 8:40am.
East Coast | DJ Diggz | Mixtape Torrents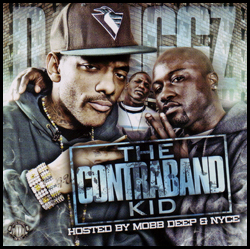 The Q.B.'s own Prodigy and Havoc are on the
scene with their newest member of the
Infamous / G-Unit team, Nyce as The
Contraband Kid DJ Diggz spins some of the
hardest joints in the game.
Teaming up with the Q.B.'s finest, Diggz breaks
down more than 45 hip-hop joints on this
majorly gutter mixtape.
Featuring the latest tracks & freestyles from
some of the grimiest artists, including Hav &
Prodigy, Jadakiss, Hell Rell, Ransom, J-Hood,
Gravy, 40 Cal, Alchemist, 50 Cent, B. Sigel,
The Game, St. Laz, Max B, Remo Da Rapstar
and more.

1 - Havoc - Intro
2 - Prodigy - It's Like That
3 - Nyce Interlude
4 - Prodigy & Nyce - I Originate
5 - Prodigy Interlude
6 - Prodigy - Filthy Rich
7 - Big Twin Interlude
8 - Infamous Mobb - Capital Q
9 - Lloyd Banks - Survivor
10 - 50 Cent - I Run Hip-Hop
11 - Game - 100 Bars
12 - Game - Nu Jersey Devil
13 - Ty Nitty Interlude
14 - Un Pacino & Ty Nitty Freestyle
15 - Havoc & Vain - Four My People
16 - Beanie Sigel Freestyle
17 - Jadakiss - Blackin Out
18 - J Hood Interlude
19 - J Hood, A Mafia & Milli - Shoot At You Actors
20 - Hell Rell Interlude
21 - J Hood Freestyle
22 - Hell Rell - Stick & Stones
23 - Helll Rell & Carolina Slim - The Anthem Rmx
24 - Hell Rell Freestyle
25 - Jim Jones - Bust A Nigga Head
26 - Max B - So Pretty
27 - St.Laz & A Mafia Freestyle
28 - St.Laz & Pottersfield - What It Is
29 - Ransom Interlude
30 - Ransom, Lil Wayne & Rick Ross Freestyle
31 - Ransom & Gravy Interlude
32 - Ransom & Gravy - Hustlin
33 - Straw Interlude
34 - Straw, Bully & Bucky - Spit Raw
35 - Podigy Interlude
36 - Mobb Deep & 50 Cent - Turn The Mic Up
37 - Game & Juice - We Gorillaz
38 - Young Buck & Tony Yayo - Take Your Life
39 - Alchemist Interlude
40 - Sheik Sinan & Dame Dame - Watch Your Mouth
41 - 40 Cal - Lyrical Calesthetics
42 - 40 Cal - Give A Fuck
43 - 40 Glocc - NWA 2K6
44 - Remo - Mad At Me
45 - J Street & Avi The Prince - Straight Badman
46 - Hollywood & Sacrifice - Keep Hatin
47 - Max B - Ryde Out Muzik
How To DOWNLOAD