DJ Diggz - The Hardest Out 2 (Beanie Vs. Styles)
Submitted by mfizzel on Tue, 08/08/2006 - 12:38pm.
East Coast | DJ Diggz | Mixtape Torrents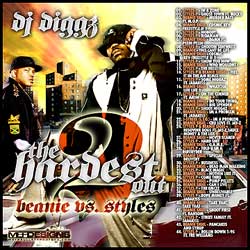 Going bar for bar, track for track, verse for verse, 16 for 16, Beanie Sigel and Styles P
square off in this mixtape battle presented by DJ Diggz.
Mixing in more than 40 combined joints from the two artists, this mixtape is strictly for
those with an appetite for raw lyricism and street bravado.
Featuring two of the streets' hardest hip-hop voices, this mixtape gives you 44 tracks,
freestyles, cameos and verses from Styles P 'The Gentleman' and Beanie Sigel 'The Broad
Street Bully.' For those who bought The Hardest Out, this joint has completely different
SP tracks.

01 - Styles P - In A Zone
02 - Styles P - Ghost Town feat. Bucky
03 - Beanie Sigel - Murder Rate feat. M.O.P.
04 - Beanie Sigel - Cosmic Kev Freestyle # 1
05 - Styles P - Nobody
06 - Styles P - Ridaman
07 - Beanie Sigel - Damn feat. Peedi Peedi
08 - Styles P - Shootin Sidewayz
09 - Beanie - This Cant Be Life
10 - Beanie Sigel - Cosmic Kev Freestyle # 2
11 - Styles P - Show You How
12 - Beanie Sigel - Who Wouldnt I
13 - Styles P - The Heist
14 - Styles P & Beanie Siegel - Feel It In the Air Remix
15 - Styles P - Some Niggaz feat. Jadakiss
16 - Beanie Sigel - Whatcha Life Life ?
17 - Styles P - On the Corner feat. Akon
18 - Beanie Sigel - Do Your Thing
19 - Beanie Sigel - Big Spender
20 - Styles P - Shoot Niggaz
21 - Beanie Sigel - Im A Problem feat. Jadakiss
22 - J-Street (S.T.G.) - Im A Problem
23 - Beanie Sigel - Cru Love feat. Jay-Z
24 - Styles P & Beanie Sigel - Resovoir Dogs feat. Jay-Z, Sauce Money & The Lox
25 - Beanie Sigel - Never Scared
26 - Styles P - Hard Shit
27 - Beanie Sigel - G.A.M.E.
28 - Styles P - Told U Im A Ruffryder
29 - Beanie Sigel - Special Delivery
30 - Styles P - Business
31 - Beanie Sigel - Dead Man Walking
32 - Styles P - Black Magic
33 - Beanie Sigel - Nothin Like It
34 - Styles P - Come Thru
35 - Beanie Sigel - Pump Pellets
36 - Beanie Sigel - Can I Live
37 - Styles P - The Emcee
38 - Beanie Sigel - Unbelivable
39 - Styles P - Dope Money feat. Jadakiss
40 - Beanie Sigel - Take That, Take That
41 - Beanie Sigel - Shoot First feat. Ransom
42 - Styles P - Street Family feat. Jadakiss
43 - Beanie Sigel - Pancakes and Syrup
44 - Styles P - Rollin Down 1-95 feat. Tre Williams
How To DOWNLOAD