DJ Drama & Saigon - Welcome to Saigon
Submitted by mfizzel on Sat, 01/07/2006 - 12:43pm.
East Coast | DJ Drama | Mixtape Torrents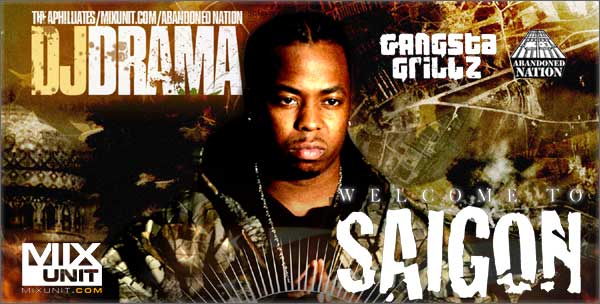 Saigon aka. The Yardfather has been a monster in the mixtape game for a minute now. Known amongst hip-hop fans as one of the hardest lyricists in the game, this Brooklyn native perfected his rhyme style while locked up a couple years ago. As soon as he got out, he started killing the mixtape circuit (including the releases The Yardfather and On The Go Back). Since then, the Abandoned Nation general has stayed blessing the streets with his patented conscious gutter raps. Saigon's skillz landed him a deal with super-producer Just Blaze and his Fort Knox Entertainment to house his debut album The Greatest Story Never Told. With DJ Drama bringing his Gangsta Grillz brand to NYC for the first time, this mixtape is the official prelude to one of the most anticipated albums of 2006. So cop the mixtape and then wait for Saigon to take hip-hop to a higher level.

1. "Return To NYC" Intro
2. Saigon Theme
3. Saigon Speaks
4. Do The Damn Thing
5. Break U Down
6. Saigon Speaks II
7. Yep Yep feat. Tru Life
8. I Can't Help Myself
9. Thug Love
10. Hip-Hop (Out In The Dark)
11. Contraband, pt. 2
12. Welcome To Saigon Understanding
13. "Infamous" Freestyle
14. Get My Nut
15. Stocking Cap
16. All I Know
17. Blackspot
18. Shot In The Booty
19. Let A Nigga Know
20. Ay Ay Ay
21. Color Purple
22. Repercussions
23. Sai Shouts
24. NY Streets
25. Shok TV
26. Outro
BONUS TRACKS
27. Come Again
28. My Favorite Things
How To DOWNLOAD