DJ Drama - Yo Gotti: I Told U So
Submitted by mfizzel on Fri, 04/28/2006 - 8:08am.
Dirty South | DJ Drama | Mixtape Torrents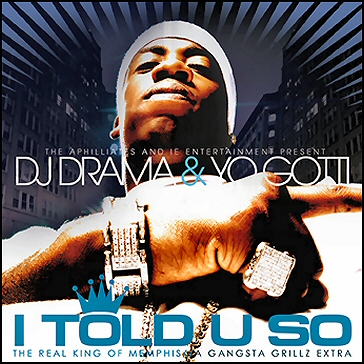 DJ Drama hits the road with Memphis hip-hop's favorite son Yo Gotti
in this bangin' mixtape. Continuing on the Grind, The Ipod King and the
King of Memphis drop a preview of what's to come on Gotti's forthcoming
album Back 2 Da Basics, slated for release this May. Featuring cameos
from Slim Thug, Lil Keke, Young Buck and more.

1 - What Up
2 - Dope Money
3 - Real King of Memphis
4 - What It Is feat. Bo Hagen
5 - Givin Up
6 - Keep It On The Low
7 - Industry Niggas
8 - Spend It Cus We Got It feat. All Star
9 - Drop It Off feat. La Chat & All Star
10 - Get Buck
11 - From Scratch
12 - Clarification
13 - Back In The Hood
14 - Work Hard Play Hard
15 - All Star Freestyle
16 - Full Time
17 - Body Rock
18 - 25 Years To life
19 - Cold Game
20 - Lean On Me feat. Slim Thug & Lil Keke
21 - Outro
22 - Memphis Walk
23 - Gangsta Party Remix feat. Young Buck & All Star

This torrent also includes the mixtape Young Dro: Day One
How To DOWNLOAD