DJ Envy - Hitlist #20
Submitted by mfizzel on Thu, 09/14/2006 - 8:26pm.
General | DJ Envy | Mixtape Torrents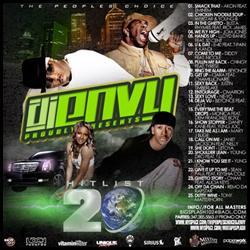 Hot 97 veteran DJ Envy knows what the
people want and always takes care of his
people. That's a good combination in the
mixtape game, and that's why we think they
call him The People's Choice.
This collection of radio heavy rotation joints is
packed with all the latest hip-hop and R&B,
including the club anthems and radio favorites.
Featuring hits from Webstar & Young B,
Omarion, Beyonce & Jay-Z, NeYo, Yung Joc,
Busta Rhymees, Jim Jones, E-40, Monica &
DFB, Young Dro, Baby Cham and more.

1 - Smack That - Akon
2 - Chicken Noodle Soup - Webstar & Young B
3 - In The Ghetto - Busta Rhymes feat. Rick James
4 - We Fly High - Jim Jones
5 - Hands Up - Lloyd Banks feat. 50 Cent
6 - U & Dat - E-40 feat. T-Pain & Kandi
7 - Come To Me - Diddy feat. Nicole
8 - Pullin Me Back - Chingy feat. Tyrese
9 - Ring The Alarm - Beyonce
10 - Get Up - Ciara feat. Chamillionaire
11 - Sexy Back - Justin Timberlake
12 - Entourage - Omarion
13 - Sexy Love - Ne-Yo
14 - Deja Vu - Beyonce feat. Jay Z
15 - Everytime The Beat Drops - Monica feat. Dem Franchize Boyz
16 - Show Stopper - Danity Kane feat. Yung Joc
17 - Take Me As I Am - Mary J Blige
18 - Call On Me - Janet Jackson feat. Nelly
19 - She Don't - Letoya
20 - Shoulder Lean - Young Dro feat. T.I.
21 - I Know You See It - Yung Joc
22 - Give It Up To Me - Keyshia Cole
23 - Ghetto Story - Cham
24 - Off Da Chain - Remo Da Rapstar
25 - Dutty Wine - Tony Matterhorn
How To DOWNLOAD