Mista Rello - Hard Body Blends DVD Edition V2
Submitted by romeo on Sat, 12/23/2006 - 10:12pm.
General | Mixtape Torrents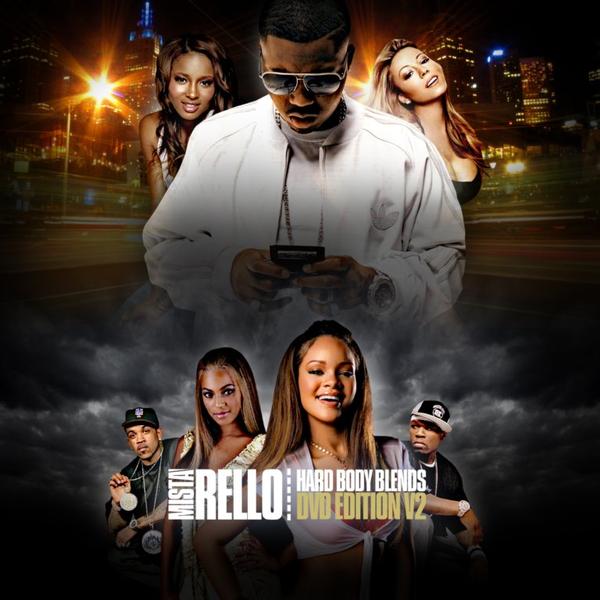 Download VLC Media Player (Free) to watch this DVD
Mista Rello comes back with the DVD Edition of Hard Body Blends Volume 2!
The tightest blends in the game featuring Beyonce, Chamillionaire, Shyne,
Kanye West, Jermaine Dupri, Janet Jackson, The Game, and much much more!
Rello is poppin off as he kicks this blends game to the next level!
Video List:
01. Intro
02. Beyonce - Ring The Alarm B/W Clipse - Mr Me 2
03. Neyo - Sexy Love B/W Webstar & Young B - Chicken Noodle Soup
04. Webstar & Young B - Chicken Noodle Soup B/W Puff Daddy - The Benjamin's
05. Janet Jackson Feat.Nelly - Call On Me B/W Young Gunz - Set It Off
06. Rihanna - Unfaithful B/W Shyne - Bad Boy
07. Beyonce Feat.Jay-Z - Deja Vu (Rello Blend)
08. Kelis Feat.Nas - Blindfold Me (Rello Blend)
09. Lloyd Banks Feat.50 Cent - Hands Up (Rello Mega Mix)
10. Mariah Carey Feat.Snoop Dogg - Say Something B/W Jarule - Clap Back
11. Fergie - London London B/W The Game - Hate It Or Love It
12. Ciara Feat.Chamillonaire - Get Up B/W Missy Elliott - Lose Control
13. Michael Jackson - Billy Jean (Rello Blend)
14. Omarion - Entourage B/W Biz Markie - Something For The Radio
15. Pharrell Feat.Kanye West - #1 (Rello Blend)
16. Diddy Feat.Nicole - Come To Me B/W 50 Cent - Disco Inferno
17. Mary J Blige - Real Love (Rello Blend)
18. Busta Rhymes Feat.Swizz Beatz - Ny Shit (Rello Blend)
19. Young Dro Feat.T.I - Shoulder Lean B/W The Game - One Blood
20. The Game - One Blood B/W Juelz Santana - Dipset Anthem
21. Danity Kane - Show Stopper B/W Ludacris - Money Maker
22. Pussycat Dolls - Loosen Up My Bottons B/W The Game - How We Do
23. Marques Houston - Favorite Girl B/W Baby - What Happen To That Boy
24. Cassie - Me And U (Rello Blend)
25. Maroon 5 - This Love (Rello Blend)
26. 3lw Feat.Jermaine Dupri - Feelin U B/W Yung Joc - Its Goin Down
27. Outro
How To DOWNLOAD