Ty Boogie - The Greatest Who Ever Done It #10
Submitted by mfizzel on Mon, 09/04/2006 - 4:41pm.
Blends | Ty Boogie | Mixtape Torrents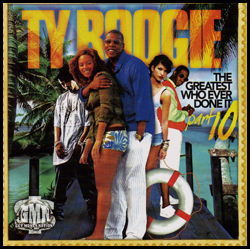 One of the baddest blend DJs in the game continues with his The Greatest
Who Ever Done It party series, as Ty Boogie once again brings you another
round of party tracks, club hits & original remixes/blends.
Join all your favorite artists as this CD takes you on a high-energy mixtape
ride, perfect for club-goers & party animals alike.
This mixtape features new hip-hop / R&B / Dirty South club tracks + party
blends featuring Janet Jackson & Nelly, Ludacris, Chris Brown, Cassie,
Letoya, P. Diddy, Jagged Edge and more.

1 - Feel So Good (Party blend) - Remy Ma & Ne-Yo
2 - Pullin Me Back - Chingy feat. Tyrese
3 - Torn (Party blend) - Letoya Luckett
4 - Call On Me - Janet Jackson & Nelly
5 - Call On Me (Party blend) - Janet Jackson & Nelly
6 - Beat Drop - Monica & Dem Franchise Boyz
7 - Feelin You (Party blend) - 3LW & Jermaine Dupri
8 - Stunnas (Party blend) - Jagged Edge & Jermaine Dupri
9 - I Need A Boss - Shareefa & Ludacris
10 - Aint No Way (remix) - Chris Brown & Fatman Scoop
11 - Sexy Love (remix) - Ne-Yo & Joe Budden
12 - Where You At (Party blend) - Joe & Papoose
13 - Turn The Lights Off - Mary J. Blige & Jay-Z
14 - Me & U - Cassie feat. P Diddy & Young Joc
15 - Deja Vu - Beyonce & Jay-Z
16 - Entourage (Party blend) - Omarion
17 - Chicken Noodle Soup (Party blend) - DJ Webstar & Young B feat. A.G.
18 - Chicken Noodle Soup - DJ Webstar & Young B feat. A.G.
19 - Come To Me - P. Diddy
20 - My Swag - Jae Millz
21 - Diddi Bop - Red Cafe
22 - Mr. Me Too - Clipse
23 - Myspace Jumpoff - Grafh
24 - Ghetto - Busta Rymes & Rick James
25 - I Know You See It - Yung Joc
26 - Shoulder Lean - Young Dro & T.I
27 - Grill Em - JR Writer
28 - Why We Fly - Jim Jones
29 - Bad Man Foward, Bad Man Pull Up - Ding Dong
30 - Busy Signal - Step Out
31 - Dutty Wine - Tony Matterhorn
32 - Give It Up To Me - Keyshia Cole
33 - Outro/Info
How To DOWNLOAD