DJ Gera - When Reggae Was Da Shit Vol. 2
Submitted by romeo on Fri, 09/29/2006 - 1:25pm.
Reggae | DJ Gera | Mixtape Torrents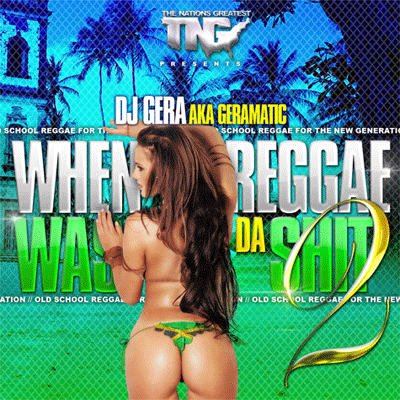 Nothing But Classic Reggae Tracks Are On This Mix
DJ Gera aka Geramatic is back with his sequel to When Reggae Was Da Shit.
This has nothing but classic reggae tracks including a couple of remixes.
This features rudebwoy classics from DMX & Mr. Vegas, TOK, Beenie Man,
Mr. Easy & Shaggy, Wayne Wonder, Tony Curtis, Lady Saw, Elephant Man,
Red Rat, Richie Stephens and Shabba Ranks.
01. Intro Juice Riddim
02. Mr. Easy - Freaky Lady
03. T.O.K - Shake Ya Bam Bam
04. Beenie Man - My Wish
05. Mr. Vegas - Go Up Bookshelf Riddim
06. Wayne Wonder - Watching You
07. Sean Paul - Deport Them
08. Tanto Metro & Devonte - Say Wowee
09. Frisco Kid & Mr. Easy - Bashment Time
10. Evette - Over & Over
11. Mr. Vegas - Jack It Up
12. Pancho Krystal - Rescue Me Cloak & Dagger Riddim
13. Lady Saw - Hice It Up
14. Little Kirk - Ghetto Girl
15. Beenie Man - Oyster & Conch
16. Tanya Stephens - Goggle
17. Tanya Stephens - Goggle RMX Classic Picks
18. DJ Snow - Party Break
19. Red Rat - Tight Up Skirt Sail Away Riddim
20. Richie Stephens - Take Me Away
21. Sean Paul - Fit & Legit
22. Beenie Man & Mr. Vegas - Bad Man Nuh Flee
23. Round Head - Call Me
24. Tony Curtis - If You Were Here Playground Riddim
25. Mr. Vegas - Nike Air
26. Sean Paul - Infiltrate
27. Beenie Man - Who Am Classic Picks
28. Beenie Man - Romie
29. Beenie Man - Memories
30. Beenie Man - Once A Year Unstoppable Riddim
31. Christopher - Ladies Man
32. Elephant Man - They Call Me
33. Wayne Wonder - Oh Baby
34. Mr. Easy & Shaggy - Girl You Are
35. Wayne Wonder & Surprize - The Story Classic Picks
36. DMX feat. Sean Paul & Mr. Vegas - Here Comes The Boom
37. Mr. Vegas - Model Pon Dem
38. Mr. Vegas - Hands Up Surpise Riddim
39. Sean Paul - Shake That Thing
40. Mr. Easy - Silent Killer
41. Elephant Man - Jamaica
42. Wayne Wonder - My Enemies Thunder Riddim
43. Mr. Easy & Sean Paul - She Likes It
44. Cecile & Merciless - We Nuh Talk
45. Daville - Living My Life Nude Riddim
46. Tony Curtis - I Got To Get It
47. Sean Paul - My Girl
48. Mr. Easy - Shotta
49. Mahlon Nico - Let Me Know
50. Wayne Wonder - Apologize Streetsweeper Riddim
51. Mr. Vegas & Sean Paul - Hot Gyal Today RMX
52. Mr. Vegas & Sean Paul - Hot Gyal Today
53. Burro Banton - Boom Wah Dis
54. Shabba Ranks - X-rated
55. Major Christie - I Gotta Be The One Classic Picks
56. Wayne Wonder - Saddest Thing
57. Singing Sweet - When I See You Smile
How To DOWNLOAD