DJ Green Lantern - Uncle Murda: Say Uncle 2 Hard For Hip-Hop
Submitted by mfizzel on Tue, 08/01/2006 - 6:34am.
East Coast | DJ Green Lantern | Mixtape Torrents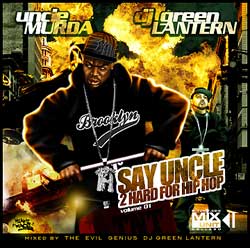 Sometimes you can tell when a rapper has what it takes. It's a special attitude, some even call it a swagger. But it's more than just that.

They don't have to convince you of how dope they are — either you know and recognize, or you don't (and then in that case, keep it moving!). Uncle Murda is that dude. He doesn't tell you how great he is, he just raps.

But sometimes people need to be told things, so that's where we step in. Take this down: The Mix Unit says Uncle Murda's got next. But don't just take our word for it.

DJ Green Lantern told Murda he could see him bringing New York back. Don't believe us? Look left. Mixed, arranged, produced and co-signed by The Evil Genius, this mixtape is the real deal. It marks the beginning of the Uncle Murda movement. East-side Brooklyn, stand up!

The 26-year-old Getting Money Gangster puts seven years of hard work into motion with this major mixtape invasion. With the mixtape to give Uncle Murda the attention he deserves, Green Lantern brings you the mixtape that he calls "powerful."

Bringing you more than 20 new and exclusive records, DJ Green Lantern and Uncle Murda team up with The Mix Unit bring you this official Mix Unit Collabo. Including NINE (9) tracks produced by The Evil Genius, you're guaranteed to Say Uncle!

1 - Intro - African Bootlegger
2 - 2 Hard For Hip-Hop [produced by Green Lantern]
3 - Without My Click GMG
4 - Suicide
5 - Cough Up A Lung
6 - Broke Niggaz Shit
7 - Getting Money Gangstaz
8 - Mind Full of Demons [produced by Green Lantern]
9 - Body Armor Skit
10 - I Shot The Sheriff [produced by Green Lantern]
11 - Murderer pt. 2 feat. Akon [produced by Green Lantern]
12 - Poppin' Niggaz Skit
13 - Ride On My Enemies
14 - I Dare Niggaz To Say My Name
15 - Africans Skit
16 - Hood Rulez Apply [produced by Green Lantern]
17 - Been Thru The Storm
18 - Tell 'Em What They Want To Hear [produced by Green Lantern]
19 - Africans Skit
20 - A Green Beat And Some Green [produced by Green Lantern]
21 - Murda Old Shit Skit
22 - Shootin' & Missin' [produced by Tuneheadz]
23 - Set Up For The Jux Shit
24 - Kick, Push [produced by Green Lantern]
25 - How To Dead Beef
26 - Gun With A Body feat. Maino [produced by Tuneheadz]
27 - Murderer pt. 1 [produced by Green Lantern]
28 - We Gunnin'
29 - Ride 4 Me
How To DOWNLOAD