DJ Green Lantern - Team Invasion : Best Of Dipset
Submitted by mfizzel on Wed, 08/23/2006 - 4:52am.
East Coast | DJ Green Lantern | Mixtape Torrents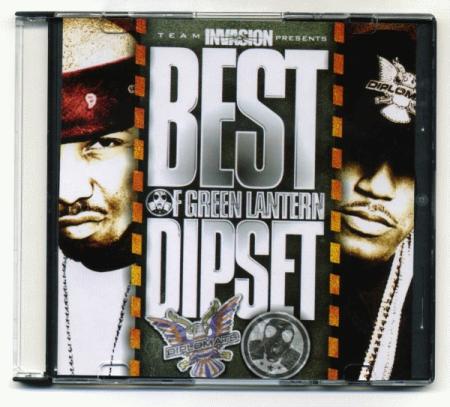 Team Invasion headed into Harlem World to put on their very best.
Dressing up this mixtape to the nines, they've collected over 30
tracks from DJ Green Lantern's best work with the Dipset crew. An
incredible compilation, this mixtape gives you a taste of some of
the dopest tracks from the Byrdgang movement.
Featuring production, instrumentals, exclusives & remixes by the
Evil Genius himself, this tape is packed with joints from the
entire Diplomats fam including Cam'ron, Juelz Santana, JR Writer,
Jim Jones, Hell Rell and more. Guest spots include Notorious
B.I.G., Akon, Lil Wayne, Jay-Z, and Dem Franchize Boyz.

1 - Hell Rell - Ruger In Da Trunk (EXCLUSIVE)
2 - ***Green Lantern Speaks***
3 - Hell Rell & Akon - All I Know [Produced by Green Lantern]
4 - Juelz Santana - Every1Spot (Green Lantern Instrumental)
5 - Cam'ron - Chosen One Freestyle
6 - J.R. Writer - The Click [Produced by Green Lantern]
7 - Jim Jones & Juelz Santana- In Da Lab Hot97
8 - Cam'ron & Notorious B.I.G. - Gun Talk (Green Lantern Mix)
9 - Juelz Santana & Notorious B.I.G. - Take Notes
10 - Jim Jones, Notorious B.I.G., & Max B - Hustlers Prayer [Produced by Green Lantern]
11 - Jim Jones & Lil Wayne - Downfall (Green Lantern Mix)
12 - Hell Rell & Lil Wayne- Gangsta 2DaCore (Green Lantern Mix)
13 - Juelz Santana & Lil Wayne - ShowdownTime (Green Lantern Mix)
14 - J.R. Writer, Cam'ron, & Lil Wayne - Birdcall (Green Lantern Mix)
15 - Hell RelL & J.R.Writer - Pop Off
16 - Cam'ron & Freeky Zeeky - Die Tonight [Produced by Green Lantern]
17 - Juelz Santana & 38 Special - H.U.S.T.L.E.R.
18 - Juelz Santana- On Da Spot (Live @ Invasion Radio)
19 - ***Juelz Santana Speaks***
20 - J.R. Writer - Freestyle (Live @ Invasion Radio)
21 - ***Jim Jones Speaks***
22 - Max B - Rockstar
23 - Cam'ron - Never Scared (Green Lantern Mix)
24 - Hell Rell / J.R. Writer - Ready 2 Fight
25 - Juelz Santana & Cam'ron - Santana Town (Green Lantern Mix)
26 - Juelz Santana & Dem Franchise Boyz - WutImWorkinWit [Produced by Green Lantern]
27 - J.R. Writer - New York Shit freestyle
28 - Jim Jones - New York Shit freestyle
29 - Cam'ron & Jay Z - Welcome 2 NYC (Green Lantern Mix)
30 - Hell Rell & J.R. Writer - Freestyle (Live @ Invasion Radio)
31 - Jim Jones - Certified Gangsta (Live @ Invasion Concert)
How To DOWNLOAD