DJ Jamad - Afromentals #24
Submitted by mfizzel on Tue, 06/20/2006 - 8:03am.
Blends | DJ Jamad | Mixtape Torrents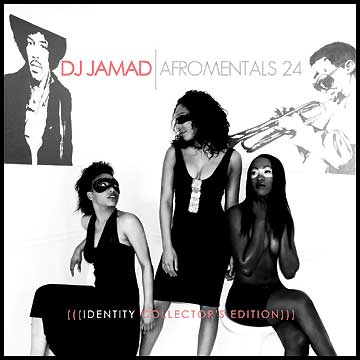 Atlanta's DJ Jamad (repping The Aphilliates) has carved a major niche
with his Afromentals mix series – anyone who listens through an entire
Afromentals mixtape is hooked. Jamad hypnotizes you with soulful sounds
as he mixes the new and old school, blending jazz, hip-hop, soul and R&B
remixes, exclusives, rare tracks & overlooked diamonds in the rough.
Mixed seamlessly front to back, Jamad's mixtapes are a relaxing hip-hop
soul music experience only available on mixtape or Jamad's Afromentals
Sirius satellite radio show.
This mixtape features soulful R&B, old school, blends/remixes, neo-soul
and organic hip-hop from Little Brother, The Temptations, J. Dilla (R.I.P.),
Mary J. Blige, Jimi Hendrix, Dionne Warwick, Lupe Fiasco, Ambrosia and more.

1 - Intro - W. Ellington Felton
2 - Dionne Warwick - You're Gonna Want Me Back
3 - J. Dilla - Stop (Donuts)
4 - Throwback (Flashback)
5 - Kim Hill - Right Now (Presto remix)
6 - Little Brother feat. Darien Brockington - I Need You (produced by DR)
7 - The Temptations - I Need You
8 - Pharoah Monch - We Must Be In Love
9 - Mary J. Blige - Love Is All We Need (Afromentals blend)
10 - Busta Rhymes - NY Sh*t (DJ Scratch)
11 - Diamond D - I Went For Mine
12 - SSO - Faded Lady
13 - Slum Village - Selfish (OOGO remix)
14 - DJ Mitsu, Roddy Rod & Kev Brown - Yes Y'all
15 - Luther Dedication - "True Hip-Hop Pasion 4Ever" - 4Always, 4Love
16 - Median - So Comfortable
17 - Raekwon - Rewind The Time (edit)
18 - Lupe Fiasco Freestyle
19 - Jimi Hendrix - The Wind Cries Morning
20 - Ambrosia - Dancing By Myself
21 - Living Colour - Love Rears Its Ugly Head
22 - Lil' Wayne - Hustler Musik
23 - Kool G. Rap - Fast Life (Afromentals blend)
24 - Marc Mac of Marc Mac Productions
25 - Boobonic Freestyle
26 - Clara Hill - Nowhere (remixX)
27 - Matthias Heilbronn feat. Monique Bingham - Go Getter
28 - Simon Grey - The Galactica Suite (Domu remix)
29 - Jafrosax feat. Vikter Duplaix - In The Morning
30 - DJ Mbuso - Thinking Of You
31 - AB Exclusive (DJ Spinna)
32 - Bugz - Once Twice
33 - Outro
How To DOWNLOAD