DJ Simon Sez & DJ Set It Off - Dungeon Immortal (The Thug Below)
Submitted by mfizzel on Sun, 09/24/2006 - 8:04am.
West Coast | DJ Set It Off | Mixtape Torrents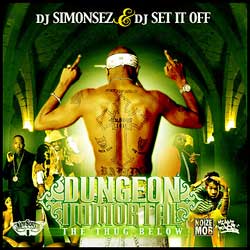 You bet, this mixtape marriage is made official
by DJs Simon Sez and Set It Off, remixing the
lyrics from the immortal rap legend and icon
Tupac Shakur with beats from the Dungeon
Family (basically...Outkast and Goodie Mob).
And it sounds as good as it sounds.
Sez and Set It Off trade blends on this
24-track mixtape of Tupac and Outkast/Goodie
Mob blends, including classic Tupac ("Dear
Mama," "Me Against The World," etc.) mixed
over classics like "Elevators," "Jazze Belle," and
"Ms. Jackson."
Bringing you this major blends concept joint,
The Thug Below is a marriage of two of rap's
greatest superstars and offers the best of
the West and 3rd Coasts. 100% Remixes!

1 - Dear Mama Feat. Cee Lo (Simon Sez blend)
2 - Never Be Peace Feat. Outlawz (Set It Off blend)
3 - Me Against The World (Simon Sez blend)
4 - Happy Home Feat. Mary J. Blige (Set It Off blend)
5 - Lie To Kick It Feat. Richie Rich (Simon Sez blend)
6 - Komradz Feat. Outlawz & Big Syke (Set It Off blend)
7 - Um Dumpin (Simon Sez blend)
8 - Only Fear Of Death (Set It Off blend)
9 - Do 4 Luv (Simon Sez blend)
10 - The Struggle Continues (Simon Sez blend)
11 - Thug 4 Life (Set It Off blend)
12 - Still Ballin Feat. Kurupt (Simon Sez blend)
13 - Fake Ass Bitches (Set It Off blend)
14 - Thug Style (Simon Sez blend)
15 - Thug N U Thug N Me Feat. Jodeci (Set It Off blend)
16 - Let Them Thangs Go (Set It Off blend)
17 - Never Call U Bitch Again (Simon Sez blend)
18 - This Life I Lead (Set It Off blend)
19 - Aquemini (Simon Sez blend)
20 - My Block (Simon Sez blend)
21 - When We Ride On Our Enemies (Simon Sez 2 Beat blend)
22 - Fuck Em All (Set It Off blend)
23 - Still I Rise (Simon Sez blend)
24 - Hold On Be Strong Feat. Stretch (Set It Off blend)
How To DOWNLOAD