DJ Kurupt - Dogg Pound: West Coast Gangstas
Submitted by mfizzel on Tue, 05/30/2006 - 3:42am.
West Coast | DJ Kurupt | Mixtape Torrents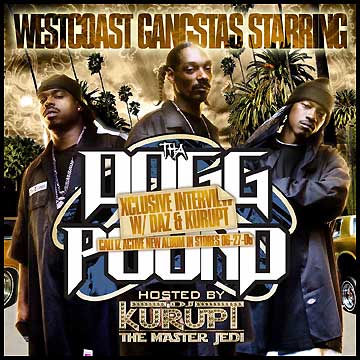 DJ Kurupt rides out to land of low-lo's, palmtrees and gangstas with a
pair of recently reunited West Coast gangsta rap icons. That, of course,
would be the Los Angeles duo of Kurupt Young Gotti & Daz Dillinger,
otherwise known as the Dogg Pound. Alongside these legendary West
Coast rap figures, Kurupt lets the bass drop to 30+ DPG classic tracks.
Featuring joints with Snoop, 2pac, Nate Dogg, Dr. Dre, Xzibit and more.
1 - Tha Dogg Pound Intro
2 - Snoop Dogg – Real Talk
3 - Tha Dogg Pound feat. Snoop - Cali Iz Active
4 - Tha Dogg Pound Interlude
5 - Jay-Z, Daz & Kurupt - Change The Game (remix)
6 - Beanie Sigal, Daz & Kurupt – For My Niggas
7 - Beanie Sigal & Kurupt – Gangsta Boogie
8 - Game, 50 Cent & Daz – Westside Story (remix)
9 - Dr. Dre, Snoop, Daz & Kurupt - Bitches Ain't Shit
10 - Snoop Dogg Nate Dogg & Kurupt – Aint No Fun
11 - Daz, Kurupt & JD – It's My Thing
12 - Daz – All I Need
13 - Kurupt & Nate Dogg – Girls All Pause
14 - Tha Dogg Pound Interview
15 - Kurupt – 4 My Niggas In The Trap
16 - Lil Wayne & Kurupt – Lock & Load
17 - Young Buck & DPG – Gangsta Unit
18 - Daz & Young Capone – I'M Hot
19 - Kurupt, Daz & Xzibit – Set Up
20 - JD, Da Brat & Daz – How We Roll
21 - Dr. Dre, Kurupt & Nate Dogg – Xxplosive (remix)
22 - Tha Dogg Pound feat. Swizz Beats – Sittin On 23'z
23 - Young Gunz & Daz – Tonight
24 - Kurupt – Westside Ridin
25 - Master P, Daz & Snoop – Westcoast Bad Boys
26 - Dr. Dre & Kurupt – Hoe A Housewife
27 - Tha Dogg Pound Interview
28 - T.I. & Daz – My Life
29 - Bone Thugs Kurupt & Snoop – The War Iz On
30 - Tha Dogg Pound feat. Snoop – Real Soon
31 - Tha Dogg Pound Interview
32 - Tha Dogg Pound – New York New York
33 - 2Pac & Daz – Bomb 1 St
34 - Kurupt – U Know
35 - Tha Dogg Pound Outro / Cali Iz Active
How To DOWNLOAD