DJ Teknikz - Georgia Power (Grand Hustle vs. CTE)
Submitted by mfizzel on Sat, 07/29/2006 - 9:08pm.
Dirty South | DJ Teknikz | Mixtape Torrents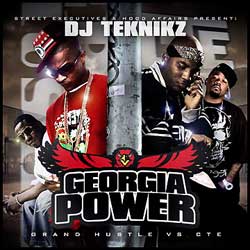 Nobody's blowing up the ATL like T.I. and his Grand Hustle family and
Young Jeezy and his Corporate Thuz Ent. crew. Together, these two rap
families have the South prepping for good rap for years to come.
Bringing out all the talent from both ATL rap stables, DJ Teknikz presents
Georgia Power, a look at CTE and Grand Hustle's artists.
This mixtape features new music from Young Jeezy, T.I., Slick Pulla, Big
Kuntry, Bloodraw, MacBoney, Yola Da Great, U.S.D.A., AK, Alfamega and guests.

1 - Georgia Power Intro
2 - T.I. - Cashflow
3 - Young Jeezy - I Do This
4 - Big Kuntry - Loc'd Out
5 - USDA - Gangsta Shyt
6 - Yola Da Great - Get You Some Money
7 - USDA - Ya Dig
8 - Macboney - Work
9 - Slick Pulla - Birds Fly South
10 - T.I. - Drive Slow
11 - T.I., MacBoney & C-Rod - Get It Up
12 - Slick Pulla - Breathe Easy
13 - Young Dro - Hey Hey Hey
14 - Slick Pulla - Whip It
15 - T.I. - Cannon
16 - USDA Ft 211 - Lil Buddy
17 - Mac Boney & Young Jeezy - Im Straight
18 - DJ Teknikz, Young Jeezy & Hella Flow - Nickname (remix)
19 - Yola Da Great - Imma Get It
20 - Slick Pulla - Hoods Last Hope
21 - T.I., Big Kuntry & Young Dro - Dip Slide
22 - AK & Choppa Fresh - Night Life
23 - Alfamega & Young Dro - Dressed to Impress
24 - Bloodraw & Field Mob - It Feels Good
How To DOWNLOAD