DJ Ty Boogie - Blend City #17
Submitted by mfizzel on Tue, 06/13/2006 - 7:33pm.
Blends | Ty Boogie | Mixtape Torrents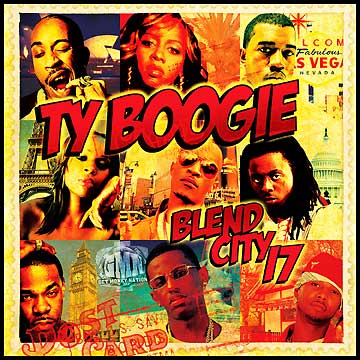 DJ Ty Boogie is the reigning Blends Mixtape DJ of the Year and his
tapes frequently are deemed MixUnit HotPicks. Dude is certified on
the blends tip, in other words. Catch his latest blends/remix mixtape
featuring all-new blends from Busta Rhymes, Kanye West, Cassie,
Bubba Sparxxx, Notorious BIG, T.I., Rick Ross, Yung Joc, Mary J
Blige, Remy Martin, Cam'ron, Lil' Jon, Ghostface, Fabolous & more.

1 - Intro
2 - New York Shit - Busta Rhymes b/w Banned From T.V., 357 & Pull It (Ty Boogie blend)
3 - Why You Wanna - T.I. b/w Your All I Need (Ty Boogie blend)
4 - Touch It Remix - Busta Rhymes b/w Grindin (Ty Boogie blend)
5 - Nasty Boy Remix - Notorious BIG & Jagged Edge b/w Ready, Candy Shop (Ty Boogie blend)
6 - Touch The Sky - Kanye West b/w Donalds Groove (Ty Boogie blend)
7 - .Ms. New Booty - Bubba Sparks b/w Get Low (Ty Boogie blend)
8 - Enough Cryin - Mary J. Blige b/w This Is How We Do, There It Go (Ty Boogie blend)
9 - I Love You - Cheri Dennis b/w Touch It (Ty Boogie blend)
10 - Say I - Christina Millian b/w Lean Back Remix (Ty Boogie blend)
11 - What I Need - Ray J b/w Roc Da Mic (Ty Boogie blend)
12 - Me & You - Cassie b/w Ms New Booty (Ty Boogie blend)
13 - The One You Need - Megan Rochell & Fabolous b/w Conceited (Ty Boogie blend)
14 - Lets Get Away - Kieran & Fabolous b/w Flipside (Ty Boogie blend)
15 - Wont Love You Back - Paula Campbell b/w I Just Wanna Love You (Ty Boogie blend)
16 - Build You Up - 50 Cent b/w So Sick (Ty Boogie blend)
17 - One More Chance - Yummy b/w Make The Music , The Bridge (Ty Boogie blend)
18 - Interlude –Ty Boogie
19 - Back Like That - Ghostface & Ne-Yo b/w Come & Talk 2 Me (Ty Boogie blend)
20 - Gimmie That Remix - Chris Brown & Lil Wayne b/w Its Goin Down (Ty Boogie blend)
21 - Im Bosy - Kelis b/w Snap Ya Finger's (Ty Boogie blend)
22 - Fresh Azimiz - Bow Wow b/w Snap Ya Finger's (Ty Boogie blend)
23 - Its Goin Down - Yung Joc b/w Grillz (Ty Boogie blend)
24 - Snap Ya Finger's - Lil John b/w Touch It Or Not (Ty Boogie blend)
25 - What You Know.... - T.I. b/w Dipset Athem (Ty Boogie blend)
26 - Touch It Or Not - Cam'ron & Lil Wayne b/w Lean Wit It (Ty Boogie blend)
27 - Poppin My Collor - Three Six Mafia b/w Down Bottom (Ty Boogie blend)
28 - Hustlin - Rick Ross b/w Oh Yes (Ty Boogie blend)
29 - Feel So Good - Remy Ma b/w Computer Love (Ty Boogie blend)
30 - DJ Play Another Love Song - Jamie Fox b/w Confessions (Ty Boogie blend)
31 - 4 Minutes - Avant b/w Jigga What Jigga Who (Ty Boogie blend)
32 - Ty Boogie - #1 (Bonus Blend)
33 - Ty Boogie - #2 (Bonus Blend)
34 - Outro / Info
How To DOWNLOAD