Ty Boogie - Blend City #16
Submitted by mfizzel on Fri, 02/24/2006 - 9:26am.
Mixtape Directory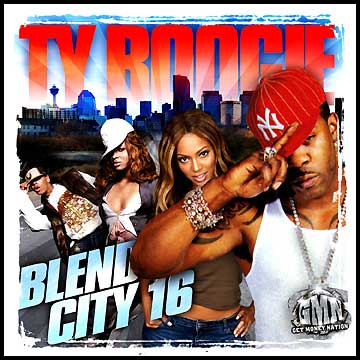 DJ Ty Boogie has taken you to the old school and thrown a crazy party
for y'all recently, but this mixtape brings Ty back to where he excels: the
blends. Breaking this mxitape down with more than 30 blends, this CD is
packed w/ remixes + blends featuring Beyonce & Slim Thug, Pharrell, TI,
Ashanti & Paul Wall, Jamie Foxx, Mary J Blige, Busta Rhymes, 50 Cent.

1 - Intro
2 - Be Without You - Mary J Blige b/w Like You & Grillz (Ty Boogie blend)
3 - Unperdictable - Jamie Foxx b/w Grillz (Ty Boogie blend)
4 - Girl 2nite - Twista & Trey Songs b/w Go DJ (Ty Boogie blend)
5 - Like You - Bow Wow & Ciara b/w Unpredictable (Ty Boogie blend)
6 - Check Up On It - Beyonce & Slim Thug b/w Fireman & I Think They Like Me (Ty Boogie blend)
7 - So Sick - Ne-Yo b/w Juicy & Pimpin (Ty Boogie blend)
8 - Yo (Excuse Me Miss) - Chris Brown b/w Build You Up (Ty Boogie blend)
9 - Still On It - Ashanti & Paul Wall b/w There It Go & Baby Girl (Ty Boogie blend)
10 - Start Talking - Donell Jones & B.I.G b/w Baby Girl (Ty Boogie blend)
11 - Im Sprung - T-Pain b/w Ready (Ty Boogie blend)
12 - I Love You - Ashanti b/w Can U Believe It & Im Sprung (remix) (Ty Boogie blend)
13 - I Want It 2 Be Over - Keisha Cole b/w Play & Clap Back (Ty Boogie blend)
14 - Run It - Chris Brown & Juelz Santana b/w Special Delivery & So Seductive (Ty Boogie blend)
15 - Stay With Me - Ne-Yo & Peedi Crakk b/w This Is How We Do, Conceited & Touch It (Ty Boogie blend)
16 - Touch It - Busta Rhyme b/w Mona Lisa (Party Break) (Ty Boogie blend)
17 - Conceited - Remy Ma b/w Oh No & Put Your Hands Up (Ty Boogie blend)
18 - Can I Have It Like That - Pharrell b/w Bring 'Em Out (Ty Boogie blend)
19 - Play - David Banner b/w What It Is (Ty Boogie blend)
20 - Pimpin - Tony Yayo b/w Stay With Me (Ty Boogie blend)
21 - Diamonds Are 4 Ever remix - Jay-Z Verse b/w Stay With Me (Ty Boogie blend)
22 - Go Crazy (remix) - Young Jeezy & Jay-Z b/w Banned From T.V. (Ty Boogie blend)
23 - Have A Party - Mobb Deep & 50 Cent b/w Let Me In (Ty Boogie blend)
24 - Window Shopper – 50 Cent b/w Ill Be Around (Ty Boogie blend)
25 - I Know You Dont Love Me - Tony Yayo & Young Buck b/w Tell Me (Ty Boogie blend)
26 - Lighter's Up - Lil Kim b/w So Sick & Yo(Excuse Me Miss) (Ty Boogie blend)
27 - I Gotta Go - Trey Songs b/w Be Your Side (Ty Boogie blend)
28 - Shake It Off (remix) - Mariah Carey & Jay-Z b/w Let Me Hold You (Ty Boogie blend)
29 - Dont Forget About Us (remix) - Mariah Carey, Bone Thugs & Juelz Santana b/w Oh Yes (Ty Boogie blend)
30 - I'm In Love With A Stripper - T-Pain b/w No Problem (Ty Boogie blend)
How To DOWNLOAD