Evil Empire - Be South 9: Grilled Up
Submitted by mfizzel on Mon, 02/27/2006 - 6:47pm.
Mixtape Directory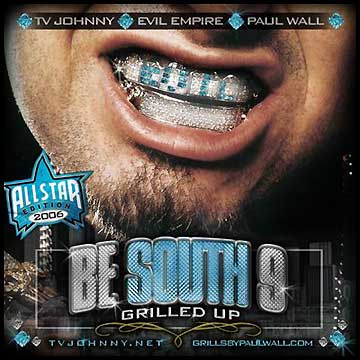 Evil Empire lets you see their grillz big-time on this monster All-Star
mixtape featuring special hosts Iceman Paul Wall and his iceman TV
Johnny. This All-Star trio brings you Southern heat and freestyles by
B.G., T.I., Pimp C, Swishahouse, Paul Wall, Rick Ross, Big Boi & Lil'
Wayne, Magno, Youngbloodz, 334 MoBB, Chamillionaire/Trae & more.

1 - TV Johnny Intro
2 - Paul Wall - Down For My Block
3 - B.G. - Gimme A Break (Dissin' Baby)
4 - Young Buck feat. Spider Loc - Where I'm From (Dissin' Game)
5 - Swishahouse feat. Lil' Keke, Paul Wall, UGK - Chunk Up Da Deuce
6 - T.I. feat. B.G. - Im Straight
7 - Pimp C feat. Trae - Swang (remix)
8 - Get A Grill (Interlude)
9 - Rick Ross - All Star '06 Flow
10 - Cam'ron feat. Lil' Wayne - Sucking Or Not (remix)
11 - Young Jeezy - Dead Wrong
12 - Killa Kyleon feat. Magno - Whip Ya Head
13 - Smitty - Lil' Haiti
14 - 334 Mo.B.B - Rep Ya Hood [Alabama Anthem]
15 - Question? - Slow
16 - Big Boi feat. Lil' Wayne, Bubba Sparxx - Kryptonite (remix)
17 - Pimp C feat. Missuz - Love Song
18 - T.I. feat. Ciara - King & Queen
19 - Tytewurk - Mary Jane (Unsigned Heatrock)
20 - Kiotti - 2 Screens Up
21 - Jimmy Boi feat. Youngbloodz & Booman - Down South Boyz [H-Town Blockburner]
22 - T. Waters - G.A.N.G.S.T.E.R [ATL Blockburner]
23 - Question? - Dear Music
24 - Chamillionare feat. Trae & Krayzie Bone - Ridin Dirty (remix)
25 - TV Johnny Outro
How To DOWNLOAD