DJ 31 Degreez - South Star Generals #3 (Third Times A Charm)
Submitted by mfizzel on Fri, 02/24/2006 - 3:25pm.
Mixtape Directory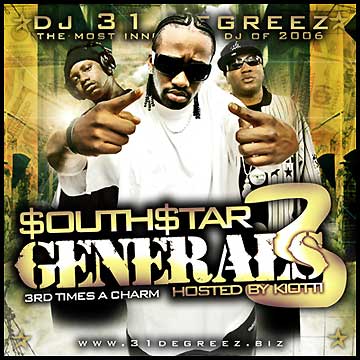 DJ 31 Degreez brings you another cold Southern mixtape featuring all
the baddest names in the Dirty 3rd. This joint has major remixes, brand
new tracks & dope freestyles from Lil' Wayne & Jeezy, Chamillionaire &
Trae, Paul Wall & GRiT Boys, Rick Ross, Eightball & MJG, Young Buck,
Lil' Flip, Kiotti, Stat Quo/Papoose, Dem Franchise Boyz, Three-6-Mafia...

1 - Young Jeezy, Jay-Z, Kayne West & Nas - We Major (remix)
2 - Kiotti ft. Dj 31 Degreez - Streets Freezin
3 - Lil' Wayne & Young Jeezy - You Dont Know Us
4 - Paul Wall & Grit Boys - Candy Coated Color Paint
5 - Chamillionaire, Trae & Krayzie Bone - Ridin Dirty (remix)
6 - Young Jeezy, Rick Ross, Jody Breeze, Big Gee & Big Duke - 6 N Da Morning
7 - Big Boi, Lil' Wayne, Killer Mike, Bubba Sparxxx & Remy Martin – Kryptonite (official remix) [new verses]
8 - Young Buck, 50 Cent, Mase & Spider Loc - It Dont Bother Me
9 - Notorious BIG, Eightball & MJG, Krayzie Bone & Twista - Spit Ya Game (remix)
10 - Bun B & Grafh - Dont Give A F*ck
11 - Rick Ross & Kayne West - Beautiful
12 - Roam Bad Daddy - Go Crazy
13 - Smitty & Akon - Natural Born Hustler
14 - Dem Franchise Boyz & Three 6 Mafia - Dont Play Me
15 - Young Jeezy - Ya Dig
16 - Lil' Wayne Freestyle (Weezy F Baby Part 2 Preview)
17 - Chyna Whyte & Bun B - Homicide
18 - Papoose, Bump J & Stat Quo - Shots Fired
19 - Kiotti & Menace - Southern Shottas
20 - Eightball & MJG - Fuck That (produced by Lil' Jon)
21 - Lil' Flip & Nate Dogg - Take Me There
22 - Dj Khaled ft. Lil' Wayne, Paul Wall, Rick Ross, Fat Joe & Pitbull - Holla At Me Baby
23 - Donnie Cross - I Know What To Do
24 - Bonecrusher ft. Chamillionaire - Get Up On It (Produced by Lil' Jon)
25 - Roam Bad Daddy - Its In The Air
How To DOWNLOAD