DJ Rondevu - Feelin Irie Vol. 4 (Hosted by Cham)
Submitted by romeo on Thu, 11/30/2006 - 6:24pm.
Reggae | DJ Rondevu | Mixtape Torrents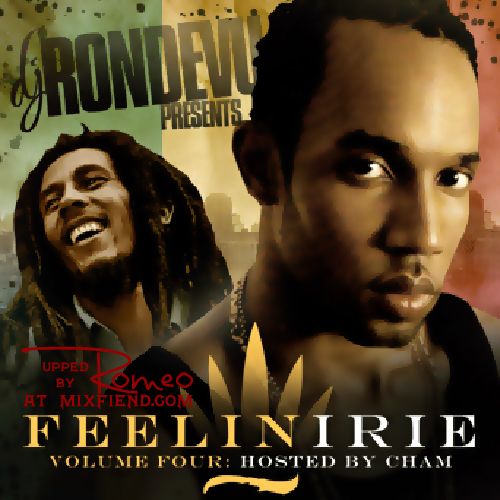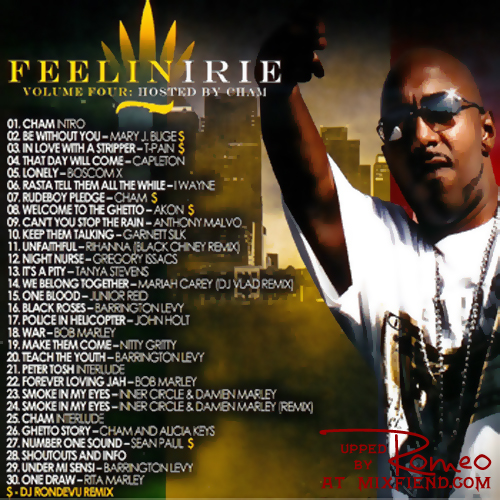 Alongside the sounds of special guest host Baby Cham, whose hit
"Ghetto Story" launched the Kingston, Jamaican to the top of the
charts, DJ Rondevu gets irie to the tunes of his 4th volume of
Feelin' Irie.
This mixtape features smoking tunes and some of reggae's mellowest
music. With Atlantic Records' Cham on deck to host this mixtape,
it's another Irie classic. Featuring classic reggae & Irie remixes
from Barrington Levy, Capleton, Bascom X, Cham, Akon, I Wayne,
Damian Marley, Mary J Blige, Junior Reid and more.
01. Cham - Intro [0:27]
02. Mary J. Blige - Be Without You (DJ Rondevu Reggae Remix) [2:46]
03. T-Pain - In Love With A Stripper (DJ Rondevu Reggae Remix) [1:41]
04. Capleton - That Day Will Come [0:59]
05. Boscom X - Lonely [0:49]
06. I Wayne - Rasta Tell Them All The While [1:50]
07. Cham - Rudeboy Pledge (DJ Rondevu Remix) [1:49]
08. Akon - Welcome To The Ghetto (DJ Rondevu Reggae Remix) [3:00]
09. Anthony Malvo - Can't You Stop The Rain [1:38]
10. Garnett Silk - Keep Them Talking [2:49]
11. Rihanna - Unfaithful (Black Chiney Remix) [3:36]
12. Gregory Issacs - Night Nurse [1:16]
13. Tanya Stevens - It's A Pity [1:18]
14. Mariah Carey - We Belong Together (DJ Vlad Reggae Remix) [2:52]
15. Junior Reid - One Blood [3:14]
16. Barrington Levy - Black Roses [3:03]
17. John Holt - Police In Helicopter [3:27]
18. Bob Marley - War [3:23]
19. Nitty Gritty - Make Them Come [1:02]
20. Barrington Levy - Teach The Youth [3:21]
21. Peter Tosh - Interlude [0:55]
22. Bob Marley - Forever Loving Jah [3:41]
23. Inner Circle & Damien Marley - Smoke In My Eyes [1:48]
24. Inner Circle & Damien Marley - Smoke In My Eyes (Remix) [1:48]
25. Cham - Interlude [0:21]
26. Cham & Alicia Keys - Ghetto Story [3:43]
27. Sean Paul - Number One Sound (DJ Rondevu Remix) [1:56]
28. Unknown Artist - Shout Outs & Info [1:00]
29. Barrington Levy - Under Mi Sensi [4:05]
30. Rita Marley - One Draw [6:46]
How To DOWNLOAD