Big Mike & Big Stress - R&B Jumpoff #21
Submitted by mfizzel on Tue, 03/07/2006 - 12:05pm.
Mixtape Directory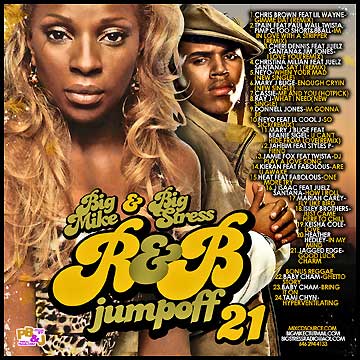 Big Mike and Big Stress return with all the latest R&B remixes and
all new hit singles. This mix also has a couple of bonus reggae joints
and features music from Chris Brown & Lil' Wayne, Donnell Jones,
Ne-Yo & LL Cool J, Jaimie Foxx & Twista, Mariah Carey, The Isley
Brothers, Keyshia Cole, Jagged Edge, Mary J. Blige & Beanie Sigel.

1 - Chris Brown feat. Lil' Wayne - Gimme Dat (remix)
2 - T-Pain feat. Paul Wall, Twista, Pimp C, Too Short & 8Ball - I'm In Love With A Stripper
3 - Cheri Dennis feat. Juelz Santana & Jim Jones - I Love You (remix)
4 - Christina Milian feat. Juelz Santana - Say I (remix)
5 - Ne-Yo - When Your Mad
6 - Mary J. Blige - Enough Cryin'
7 - Cassie - Me And You
8 - Ray J - What I Need
9 - Donnell Jones - I'm Gonna Be
10 - Ne-Yo feat. LL Cool J - So Sick (remix)
11 - Mary J Blige feat. Beanie Sigel - U Can't Hide From Love (remix)
12 - Jaheim feat. Styles P - Fiend
13 - Jamie Foxx feat. Twista - DJ Play A Love Song
14 - Kieran feat. Fabolous - Are Awake
15 - Heat feat. Fabolous - One More Try
16 - J Issac feat. Juelz Santana - How I Roll
17 - Mariah Carey - Fly Like Bird
18 - Isley Brothers - Just Came Here To Chill
19 - Keyshia Cole - Love
20 - Heather Hedley - In My Mind
21 - Jagged Edge - Good Luck Charm
BONUS REGGAE
22 - Baby Cham - Ghetto Story
23 - Baby Cham - Bring It On
24 - Tami Chyn - Hyperventailating
How To DOWNLOAD