Green Lantern & Team Invasion - This Ain't No Greezy Talk
Submitted by mfizzel on Sun, 04/09/2006 - 12:36am.
Mixtape Directory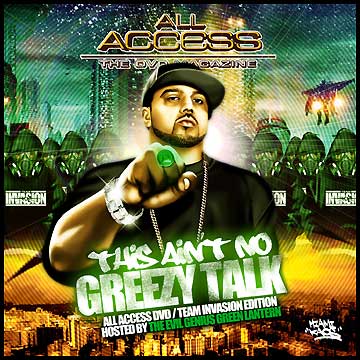 Team Invasion and their mentor DJ Green Lantern show you how the
Invasion camp gets down to business with DVD monster All Access. This
major mixtape is nothing but Evil Genius mixes & greezy hood sh*t from
the biggest names in hip-hop: Cam'ron & The Diplomats, Jeezy & Pharrell,
Papoose, T.I., Juelz & Rick Ross, Styles P, Lil' Wayne, Red Cafe, Remy
Ma, Chamillionaire, Ice Cube, Scarface & Geto Boys, N.O.R.E., Jae Millz.

1 - DJ Green Lantern Speaks
2 - Fever Intro (Team Invasion)
3 - Hell Rell, Cam'ron - Laughing At Ya
4 - Busta Rhymes, Swizz Beatz - New York Shit
5 - Styles P., Red Cafe - Green Lantern Shit
6 - Hell Rell - Invasion Radio Freestyle
7 - Jim Jones, Max B - Knick Knack
8 - Juelz Santana, Rick Ross - Whip It Hard (Green Lantern mix)
9 - Max B - Take Me Away
10 - Currency, Lil' Wayne, Remy Ma - Where Da The Cash At
11 - Young Jeezy, Juelz Santana, Pharrell - Getting Money (Green Lantern mix)
12 - Chamillionaire, Jae Millz, Papoose - Riding Dirty
13 - 38 Special. (Team Invasion) - Don't Talk No Shit [produced by Green Lantern]
14 - Jim Jones, Max B - Frustrated
15 - T.I. - I'm Talkin' To You
16 - Lil' Wayne, Hell Rell - Gangsta 2 Da Core (Green Lantern mix)
17 - Uncle Murder Invasion Freestyle
18 - Rick Ross Freestyle
19 - Busta Rhymes, Kelis, Will.I.Am - I Love My Bitch
20 - N.O.R.E. Exclusive
21 - Ice Cube - Why We Thugs
22 - Scarface, Ghetto Boys - My Life
23 - Max B - Don't U Know No Good [produced by Fire House Music]
24 - John Doe Invasion Freestyle
25 - Jiggy Littles - Team Invasion Freestyle
26 - Vinnie Da Don, Papoose - Streets
27 - Maceiah - Drama
28 - Matty P - Puff Puff
29 - Desperado - Fuck You
30 - Columbo - Game So Mo
How To DOWNLOAD