DJ Green Lantern - Alive On Arrival
Submitted by mfizzel on Mon, 03/06/2006 - 1:21pm.
Mixtape Directory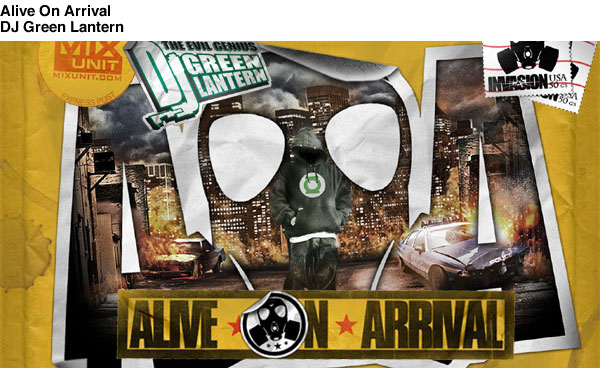 DJ Green Lantern is alive. We repeat, DJ Green Lantern is alive. And guess what? He's coming for that "#1 Spot." For all the Evil Genius fans who've been waiting patiently for their favorite mixtape superhero to get back in the lab and drop it like it's hot, here's an all-original, all-new GL mixtape just for you. Take a deep breath — The Invasion Is Here!
Green Lantern is back from a little mixtape hiatus with the release of Alive On Arrival, the official mixtape prelude to his debut album The Invasion. After his much-publicized 2005 split from long-time boss Eminem and his musical shelter at Shady/Aftermath, Green had the haters wondering what his next move would be and how he'd recover. After enjoying the spoils of the free agent market for a quick minute, the legendary mixtape DJ/producer landed himself on Russell Simmons Music Group and Def Jam Records.
Set to release his official debut album some time later this year, this mixtape gives you a little preview of what's in store for The Evil Genius in 2006. With all-new and exclulsive production from Green Lantern, this mixtape tracklist reads like a hip-hop All-Star roster: Jay-Z, Juelz Santana, Beanie Sigel, T.I. & Fat Joe, Pharrell, Papoose & Mobb Deep, Ghostface, Busta Rhymes & Q-Tip, Bun B & Rakim, Remy Martin, Mike Jones, Notorious B.I.G. & Jim Jones, Styles P, Tru Life, Memphis Bleek and more.
1. "Alive On Arrival" Intro
2. "Vacation's Over" - Russell Simmons
3. Did You Miss Me, pt. 1 - DJ Green Lantern feat. Juelz Santana
4. Got Me On My Shit - Jay-Z (Green Lantern mix)
5. Shotgun Season - Fat Joe feat. Styles P. [produced by Green Lantern]
6. Never Scared - Beanie Sigel feat. Tru Life [produced by Green Lantern]
7. The Ice Cream Man - Pharrell [produced by Green Lantern]
8. Swizz Beatz Interlude
9. All I Know - DJ Green Lantern feat. Akon & Hell Rell [produced by Green Lantern]
10. "Survivor" Freestyle - Ghostface
11. License To Kill (remix II) - Papoose feat. Mobb Deep [produced by Green Lantern]
12. Ride With A 'G' - T.I. feat. Fat Joe (Green Lantern mix)
13. Interlude
14. New York - DJ Green Lantern feat. Jae Millz, Stack Bundles, Cory Gunz & Maino [produced by Green Lantern]
15. Your Longest Trip - Beanie Sigel (Green Lantern mix)
16. C.R.A.C.K. - Juelz Santana feat. 38 Special (Invasion)
17. Hustler's Prayer - Notorious B.I.G. feat. Jim Jones [produced by Green Lantern]
18. George Bush Interlude
19. Impeach The President - DJ Green Lantern feat. dead prez, Saigon, Immortal Technique & Just Blaze
20. Presidential Interlude - Wyclef
21. Bronx Blocks - Remy Martin
22. Blow His Head Off - Busta Rhymes feat. Ghostface [produced by Green Lantern]
23. The Click - J.R. Writer [produced by Green Lantern]
24. Young Jeezy & Lil' Wayne Interlude
25. In My Life - Mike Jones feat. The Boy Short (RSMG)
26. Get Ya Pay - T.I. feat. Bun B. & Rakim [produced by Green Lantern]
27. Top Down - Memphis Bleek [produced by Green Lantern]
28. Sow You What I'm Workin' Wit - DJ Green Lantern feat. Juelz Santana & Dem Fanchise Boyz [produced by Green Lantern]
29. We G's - Kool G. Rap & Prinz [produced by Green Lantern]
30. Alive On Arrival - Kardinal Offishall
31. Real Good - Nucci Reyo
32. Who's That? - Busta Rhymes feat. Q-Tip [produced by Green Lantern]
33. Did You Miss Me, pt. 2 - Juelz Santana
34. BONUS: Dresscode - Torch [produced by Green Lantern]
35. BONUS: Lean On 'Em - Mag
How To DOWNLOAD