DJ Mino Presents: Jay-Z & Lil Wayne - Gutta Muzic (The Carter Edition)
Submitted by romeo on Thu, 12/21/2006 - 12:17pm.
General | Mixtape Torrents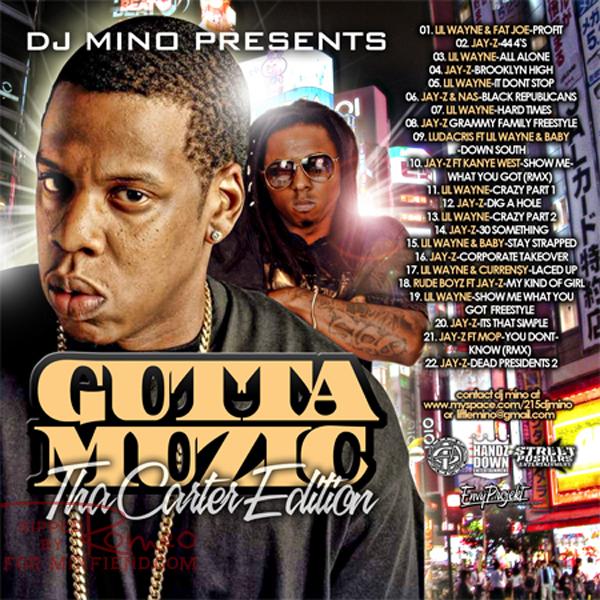 Chea I got a decent cover for yall this time. Shouts to DJ Mino!
This one is pure crack! The young and talented DJ Mino bringin' yall
a decent compilation of tracks here. Following the recent releases of
Gutta Muzic Vols. 1 & 2 which were both excellent - his new mixtape,
appropriately titled "Gutta Muzic (The Carter Edition) features 22
tracks from Jay-Z and Lil Wayne and features artists like Fat Joe,
Nas, Ludacris, Baby, Kanye West plus more. Like I said - Pure Crack!
1. Lil Wayne And Fat Joe - Profit [5:05]
2. Jay Z - 44 4's [3:07]
3. Lil Wayne - All Alone [2:15]
4. Jay Z - Brooklyn High [3:17]
5. Lil Wayne - It Don't Stop [3:05]
6. Jay Z And Nas - Black Republicans [3:47]
7. Lil Wayne - Hard Times [3:10]
8. Jay Z - Grammy Family Freestyle [1:58]
9. Ludacris Ft. Lil Wayne And Baby - Down South [3:46]
10. Jay Z Ft. Kanye West - Show Me What You Got Remix [3:31]
11. Lil Wayne - Crazy Part 1 [2:56]
12. Jay Z - Dig A Hole [4:06]
13. Lil Wayne - Crazy Part 2 [3:21]
14. Jay Z - 30 Something [4:02]
15. Lil Wayne And Baby - Stay Strapped [3:22]
16. Jay Z - Corporate Takeover [1:38]
17. Lil Wayne And Curren$y - Laced Up [3:43]
18. Rude Boyz Ft Jay Z - My Kind Of Girl [3:24]
19. Lil Wayne - Show Me What U Got Freestyle [3:41]
20. Jay Z - Its That Simple [0:49]
21. Jay Z Ft M.O.P - You Don't Know Remix [4:22]
22. Jay Z - Dead Presidents 2 [4:20]
How To DOWNLOAD