Hood Affairs TV - 1017 Brick Squad AKA Trap-A-Holic 3 (DVD)
Submitted by b14ck0u7 on Wed, 02/17/2010 - 8:46am.
General | Mixtape Torrents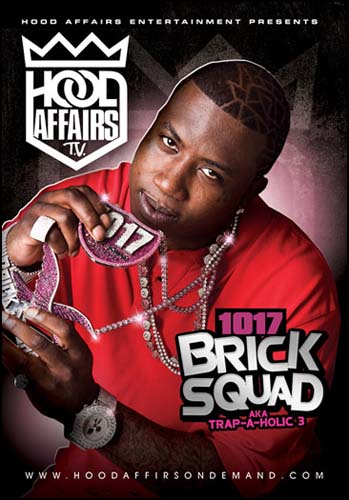 Download VLC Media Player (Free) to watch this DVD
1017 BRICK SQUAD aka. TRAP-A-HOLIC #3 DVD - Hood Affairs TV, Gucci Mane, OJ Da Juiceman & So Icey Ent.
Hood Affairs TV and So Icey Ent. bring you 1017 Brick Squad aka Trap-A-Holic #3. This edition contains exclusive, never-before-seen footage from Gucci Mane's first day out of jail and his instant rise to street celebrity from Day One.
Capturing the rapper that went from an unknown to one of the biggest artist in the game, Hood Affairs TV shows you a raw + uncensored look at the life of Gucci Mane following his release from jail back in March 2009 after more than six months in lockup.
Documenting the streets #1 rapper's meteoric rise from king of the mixtape scene to now having songs on in Billboard's Top 100. He's created his own label 1017 Brick Squad, the home of his artists Waka Flocka Flame, Wooh Da Kid, Frenchie and also 32 Entertainment's OJ Da Juiceman.
They've taken over the streets, starting with Atlanta and moving across the country to Traps and Dope houses from Coast to Coast. This is the 3rd edition of Hood Affairs TV's exclusive behind-the-scenes look at Gucci Mane's empire and Trap-A-Holic lifestyle.
How To DOWNLOAD