J. Armz - How To Be An MC Instrumentals Vol. 34
Submitted by mfizzel on Fri, 05/26/2006 - 2:57am.
Instrumentals | J. Armz | Mixtape Torrents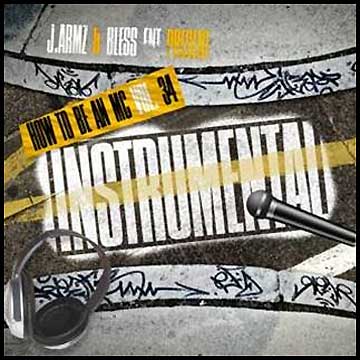 J. Armz brings you the deepest instrumental collection in the mixtape
game, with 33 all-new, full-length instrumentals — NO TALKING! With
beats from new tracks by Busta Rhymes & J. Dilla (R.I.P.), Havoc &
Mobb Deep, Dipset & Scram Jones, Lil' Wayne & The Runners, Clinton
Sparks & D-Block, Jeezy & Jazze Pha, T.I. & Just Blaze & DJ Drama.

1 - Ya'll Can't Live His Life (produced by Scram Jones) – Duke Da God feat. Cam'ron
2 - Click Click (produced by Havoc) – Mobb Deep feat. Tony Yayo
3 - Shots Fired (produced by Elite) – Styles P feat. Jadakiss
4 - I'm Talkin To You (produced by Just Blaze) – T.I.
5 - Hit 'Em Up (produced by Doe Boys – Develop & Filthy) - Lil Wayne
6 - Cannon! (produced by DJ Drama) – DJ Drama feat. Busta Rhymes & T.I.
7 - Frustrated (produced by Thump City Prod.) – Duke Da God feat. Jim Jones, 40 Cal & Max B
8 - Psycho (produced by J. Dilla) – Busta Rhymes feat. Cassidy & Papoose
9 - Money On My Mind (produced by The Runners & Nasty Beatmakers) – Lil Wayne
10 - Creep (produced by Havoc) – Mobb Deep feat. 50 Cent
11 - I'm Back (produced by The Alchemist) – Obie Trice
12 - NY S#!t (produced by DJ Scratch) – Busta Rhymes feat. Swizz Beats
13 - Take Everything (produced by Clinton Sparks) – Clinton Sparks feat. D-Block
14 - How I Was Raised (produced by Mannie Fresh) – Freeway feat. Scarface
15 - How To Be A Millionaire (produced by Jazzy Pha) – Ty Gracy feat. Young Jeezy & Snyp Life
16 - Told You So (produced by Keith Mack) – T.I.
17 - Give It To Me (produced by Profile) – Mobb Deep feat. Young Buck
18 - U Can't Believe It (produced by Buckwild) – Playaz Circle feat. Ludacris
19 - Professional Style (produced by The Alchemist) – Alchemist feat. AZ
20 - Dirty New York (produced by J Waxx Garfield) – Cormega feat. Fat Joe
21 - G Type (produced by Alchemist) – Scarface
22 - Smoke It (produced by Havoc & Sha Money XL) – Mobb Deep
23 - I'm A Hustla (produced by Akon) – Smitty feat. Akon
24 - Open Up Shop (produced by Soundsmith Productions) – Snyp Lyfe
25 - The Champ (produced by Just Blaze) – Ghostface
26 - I'm Straight (produced by Nick Fury) – T.I. feat. B.G. & Young Jeezy
27 - If Doing Me Is Wrong (produced by No I.D.) – Bossman
28 - Kick, Push (produced by Soundtrakk) – Lupe Fiasco
29 - Pearly Gates (produced by Exile) – Mobb Deep feat. 50 Cent
30 - Chevy Ridin' High (produced by Dre) – Dre feat. Rick Ross
31 - Put Them In Their Place (produced by Sha Money XL & Ky Miller) – Mobb Deep
32 - Wet Wipes (produced by The Alchemist) – Cam'ron
33 - Suck It Or Not (produced by Chubby Baby) – Cam'ron feat. Lil Wayne
How To DOWNLOAD