J. Armz - How To Be An MC Instrumentals Vol. 35
Submitted by mfizzel on Mon, 06/12/2006 - 1:28pm.
Instrumentals | J. Armz | Mixtape Torrents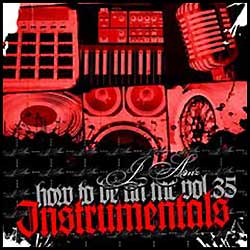 The engineer/mixtape producer and Instrumental King J. Armz is back
with the 35th edition of the most consistent, high-quality instrumental
mixtape series around. With full production credits so you know who's
responsible for these neck-breakers, J. Armz hits you with 33 all-new
beats from usual suspects Kanye, Dre, Timbaland, Pharrell & Lil' Jon +
majors: Rick Rock, Kwame, Sha Money XL, DJ Khaled, Havoc, Khaled.

1 - Leave You Alone (produced by Blackout Movement) – Cam'ron
2 - Cake (produced by Fatin) – Lloyd Banks
3 - Capital P, Capital H (produced by Capital P) – Mobb Deep
4 - How We Do It Over Here (produced by Dr. Dre) – Busta Rhymes feat. Missy Elliott
5 - Impossible (produced by Kanye West) – Kanye West feat. Twista & Keyshia Cole
6 - We Make Change (produced by Jonathan Dugger) – Cam'ron
7 - Don't Get Carried Away (produced by Dr. Dre) – Busta Rhymes feat. Nas
8 - Listen (produced by Kwame) – Talib Kwali
9 - Triple Up (produced by Headbangaz Entertainment) – Cam'ron feat. 40 Cal
10 - My House (produced by Timbaland) – Lloyd Banks
11 - About Mine (produced by GM Productions) – A Mafia
12 - War (produced by Nova for Spliffington Management) – Duke Da God feat. Cam'ron & Hell Rell
13 - Get You Some (produced by Dr. Dre) – Busta Rhymes feat. Q–Tip & Marsha of Floetry
14 - I Gotcha (produced by Rick Rock) – Corey Guns feat. Lil Wayne
15 - Love My Life (produced by Jonathan Dugger) – Cam'ron feat. Nicole Wray
16 - ove The Moula (produced by Jonathan "J.R. Rotem) – Mobb Deep
17 - Been Through The Storm (produced by Sha Money XL) – Busta Rhymes feat. Stevie Wonder
18 - I.B.S. (produced by Heatmakerz) – Cam'ron
19 - Poppin' Off (produced by Knoxvill for Spliffington Mgmt.) – Duke Da God feat. Hell Rell
20 - Freaky (produced by Develop) – Juelz Santana
21 - ope Girl (produced by Deja "The Great) – Brooke Valentine feat. Pimp C
22 - Timbz Do Work (produced by Ken) – Smif 'N' Wessun feat. Heltah Skeltah
23 - Cocaina (produced by Rick Rock) – Busta Rhymes feat. Marsha of Floetry
24 - Backstage Pass (produced by K–Lassik) – Mobb Deep
25 - Bright Lights (produced by Jim Barns) – Jim Jones
26 - Kilos (produced by Moss) – Ghostface
27 - American Me (produced by Heatmakerz & Mike Loe) – CL Smooth
28 - Stole Something (produced by Havoc) – Mobb Deep feat. Lloyd Banks
29 - Number One (produced by Pharrell & Kanye West) – Pharrell feat. Kanye West
30 - Out of Business (produced by DJ Scratch) – Rampage feat. Busta Rhymes
31 - It's A Problem (produced by DJ Khaled) – DJ Khaled feat. Beanie Sigel & Jadakiss
32 - Gangsta Gangsta (produced by Lil Jon) – Lil Scrappy feat. Lil Jon
33 - It's Goin Down (produced by Yung Joc) – Yung Joc
How To DOWNLOAD